Homemade taquitos, slightly crunchy with wholesome ingredients, makes for a great snack or simple dinner.
There once was a time when my grocery cart was full of boxed foods, taquitos making the cut more often than not. They were our favorite weekend snack and we didn't think twice about what was in them.
Then came along my awareness of preservatives and processed foods so I bought them less and less over the years, and only when someone (*cough* Todd *cough*) begged for them. Once we were gluten-free they never graced our refrigerator with their appearance again.
But one of the biggest things I've found that helps the men in our lives really embrace whole foods, is making these "junk foods" at home. Because if I can keep him happy at the dinner table, he's much more apt to want to eat good, wholesome foods.
When I found these gems on Pinterest awhile back I couldn't help but make them myself.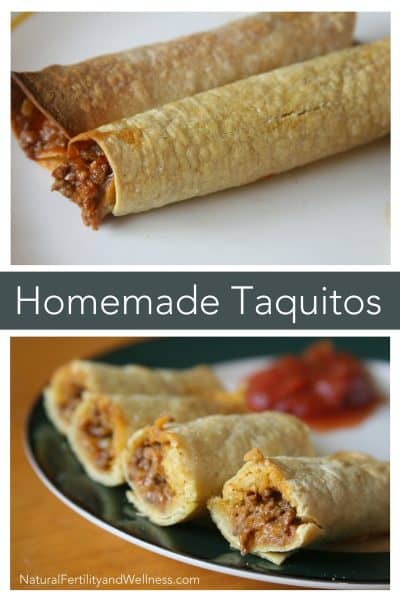 For gluten-free options, simply use your favorite gluten-free or corn tortilla!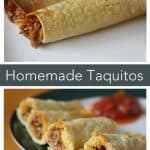 Print Recipe
Homemade Taquitos
Makeover your junk food with these homemade taquitos.
Ingredients
2

cups

cooked chicken

leftover roast chicken works great OR 2 cups ground/shredded beef

3

oz

cream cheese

softened

2

Tbsp

cilantro

1/2

tsp

cumin

1

tsp

chili powder

3

Tbsp

chopped onion

1

clove

garlic

minced

1

cup

cheddar cheese

juice from 1/2 lime

10

flour or corn tortilla shells

melted butter

optional
Instructions
Mix the first nine ingredients in large bowl until well combined. At this point, you can taste and add more seasonings or lime juice if you like.

Place a small amount of mix into each shell and roll tightly. Place seam down on a baking sheet (use a toothpick in each one if they keep unrolling) and brush with melted butter.

Bake at 350 for 15 to 20 minutes, until just starting to brown.
Notes
Variations
*You can also fry these in a bit of butter on the stove-top for more crunch. This tends to make them even more "man friendly".
*These also make great beef taquitos though I left out the lime juice.
*A dipping sauce goes wonderfully with these and either the avocado aioli or the spicy dressing pairs perfectly.
The picture above actually shows a quickly made up dip when I had nothing else on hand; 1/3 cup tomato sauce, 1 oz cream cheese, 1/2 clove garlic, 2 tsp chopped onion, 1/4 tsp cumin, and 1/2 tsp chili powder.