Fudgy Dark Chocolate Peppermint Brownies
These healthy, gluten-free Fudgy Dark Chocolate Peppermint Brownies are the perfect way to indulge without feeling guilty!
Healthy dessert
Dark chocolate is a very important part of anyone's diet. Not only is it full of antioxidants, but it's also a wonderful source of iron, magnesium, copper, manganese, potassium, phosphorus, zinc and selenium. It has also been shown to lower blood pressure, and decrease the likelihood of oxidative damage from LDL (bad cholesterol) while increasing HDL (good cholesterol) and improving insulin sensitivity!
Plus, of course, it makes you happy. 
With such amazing benefits as these, I don't mind making dark chocolate treats a part of my diet. And by that, I don't mean eating a bar of Hershey's every week. That kind of dark chocolate is undoubtedly loaded with sugar, soy, and other unnecessary ingredients.
Now, I'm not against the occasional use of coconut sugar, or organic cane juice, every now and again if your body can handle it. But I try to keep my sugar consumption to just once a month, to give my immune system as much help as possible.
Dark chocolate and peppermint – the best combo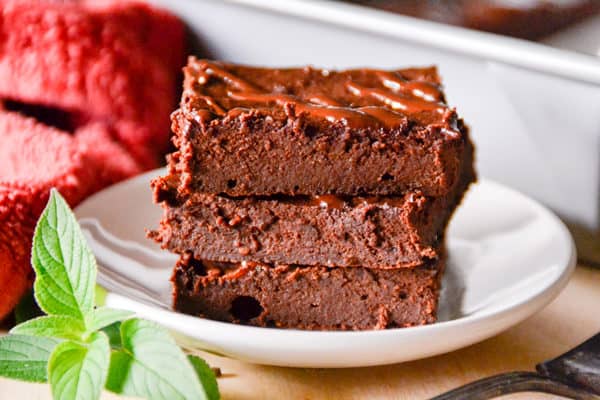 Along with my dark chocolate, I love to add peppermint. The flavor-combo is one of my all-time favorites! Peppermint combines its natural energizing factors with vitamin A and C, iron, potassium, a high flavonoid content, and a substantial amount of antioxidants. So combining it with dark chocolate can make for one powerfully healthy dessert. 😉
Fudgy Dark Chocolate Peppermint Brownies
I haven't always been the biggest fan of brownies, but ever since going gluten-free about 6 years ago, they've fast become a favorite treat. Though black bean brownies were the first love, and I continue to enjoy them, I've since branched out into banana-based brownies, peanut butter, and coconut flour brownies.
These Fudgy Dark Chocolate Peppermint Brownies combine both the flavor and health of dark chocolate and peppermint into an easy to make, hard to resist a treat. Even my husband, who is not a fan of minty things, devour "those delicious brownies" as soon as I was done photographing them!
This recipe can be made with butter and buttermilk, which both lend a delicious flavor, in my opinion, but you can substitute coconut oil and coconut milk to easily make them dairy-free, as well.
Print Recipe
Fudgy Dark Chocolate Peppermint Brownies
Healthier brownies that you'll love!
Ingredients
Fudgy Dark Chocolate Peppermint Brownies
1/4

cup

butter

softened

1/4

cup

organic coconut sugar

1/4

cup

honey

local is best!

6

Tbsp

applesauce

1 1/2

tsp

peppermint extract

2

Tbsp

buttermilk

2

eggs

3/4

cup

cocoa powder

1/4

cup

rice flour

2

Tbsp

tapioca

1/2

cup

chocolate chips
Peppermint Chocolate Drizzle
1/4

cup

coconut oil

1/4

cup

honey

2

Tbsp

cocoa powder

1/4

tsp

peppermint extract
Instructions
Preheat oven to 325 degrees. Line an 8x8 baking dish with parchment paper.

Whip butter, sugar, honey, and applesauce until creamy.

Add in eggs and beat.

Add in cocoa powder 1/4 cup at a time, beating after each addition.

Stir in flour and starch.

Add in buttermilk and peppermint extract.

Fold in chocolate chips.

Spread into prepared pan and bake for 20-25 minutes, or until set.

Combine drizzle ingredients in small bowl and drizzle over cooled brownies.
Notes
Dairy-free version - use softened coconut oil (not melted) instead of butter and full-fat coconut milk instead of buttermilk.
Nutrition
Calories:
215
kcal
|
Carbohydrates:
28
g
|
Protein:
2
g
|
Fat:
11
g
|
Saturated Fat:
8
g
|
Cholesterol:
38
mg
|
Sodium:
60
mg
|
Potassium:
122
mg
|
Fiber:
2
g
|
Sugar:
19
g
|
Vitamin A:
3.5
%
|
Vitamin C:
0.1
%
|
Calcium:
2.5
%
|
Iron:
6.7
%