Almonds are one of my favorite quick snacks as well as an easy way to add crunch and flavor to many dishes. They are a great source of biotin, vitamin E (contrived of tocopherols which in Latin means "to bring forth a child"), manganese, and copper. Learning how to soak almonds also makes them more nutritious AND they taste better!
A few years ago my thoughts on almonds changed a bit after reading Nourishing Traditions when I was confronted with the fact that raw or roasted almonds may essentially be robbing our bodies of nutrients due to something called phytic acid. Almonds are one of the foods highest in phytic acid – even more so than wheat, oatmeal, and soy.
It is taught in the "traditional foods" circles that this enzyme inhibitor must be reduced to aid in digestion and nutrient absorption.
After soaking almonds for the first time I was hooked.
It takes some time, though just a few minutes of active work, but the end result is a nut that not only tastes better but is easier on the digestive system. I now soak most of the almonds that I use because I notice such a big difference in overall digestion when I eat them – which to me is more important than scientific studies.
Crispy almonds (and other nuts) also taste much better! They're crunchier with almost a lighter texture, and the taste is also better as well. I've had many friends and family tell me they don't like snacking on almonds, but when I get them to try mine they love them.
Besides snacking on crispy almonds by themselves, I like to use them in: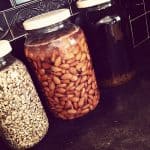 Print Recipe
Crispy almonds
Perfectly light texture and crunch.
Ingredients
4

cups

raw almonds

1

tsp

sea salt
Instructions
Use a container at least twice the size of the amount of almonds you're using. They swell to about twice the size and will soak up much of the water.

Cover the nuts with warm water and let sit in a warm place for about 12 hours or overnight. After about 12 hours, or in the morning, drain the water, add one teaspoon of salt, and fill again with warm water to let soak for another 8-12 hours.

After the final salt water soak, drain the almonds and dehydrate until crisp. This may take 6-8 hours. Use the nut setting on your dehydrator or the lowest temperature available on your oven.
Notes
If you can't find raw, purchase unroasted and unsalted nuts and seeds.
Variations - you can use the same method for many nuts and seeds; walnuts, pecans, peanuts, sunflower seeds, pumpkin/pepita seeds, etc.
When I first started soaking almonds I finished after dehydrating to keep them raw, but since Kimi posted that both dehydrating AND then roasting removed even more phytic acid (though studies have yet to prove how much) I've roasted them in the oven for 20 minutes or so which adds a nice roasted flavor to the already salted nuts.
Even the experts are unsure of how much phytic acid is removed during this process, or even if it removes enough to make it worthwhile, but what I do know is that I notice a difference between soaked and unsoaked almonds. So I'll continue soaking them but not freak out should I consume an unsoaked one from time to time.