How to make elderberry syrup
Last year I posted how I made elderberry syrup and over the winter I was able to test and try out a few new ways of making elderberry syrup that make it more palatable and medicinally potent. Now I have a list of tricks and tips I'm going to share with you for how to make elderberry syrup based on preferences and needs.
Elderberry (sambucus nigra) has many benefits, but what most people use it for is to help prevent and reduce the severity of the flu. It's been used by herbalists for many, many years and studies are now finding that this is the case in many strains of the flu virus. I've used it on a preventative basis as well as when I begin getting sick and I definitely like to have this herb in my natural medicine cabinet at all times.
Everyone knows the flu is miserable and we often take multiple types of medication to help relieve some of the symptoms, many times using over the counter pain relievers like ibuprofen, naproxen, and aspirin (NSAIDS). While I know there are times when medicine has its place (I usually have a couple of OTC pain relievers on hand just in case) you should also know that more recent studies are finding that the use of NSAIDS can dramatically reduce ovulation with consistent use. 
One way for me to reduce the amount of this specific type of pain relievers I use on a regular basis is by taking steps to keep my body running well and take precautions during cold and flu season. Elderberry syrup (or tincture) is one natural remedy I always have on hand to do just that!
Making elderberry syrup is easy and there are a lot of different recipes out there, but I want to help you make the best batch possible!
3 Tips for making elderberry syrup
One – Don't boil the elderberries. This tends to change not only the flavor, but vitamin C does not hold up well to heat and will be reduced in the final product. Even at steaming temperature, you may lose some of the vitamin C, but boiling increases that loss.
Two – Add in other beneficial herbs depending on your needs. There are, of course, may different herbs that would pair well with elderberry, but I'll mention a few of my favorite add-ins:
Fresh rose hips are a great source of vitamin C and contain about 200% of the recommended daily value (dried hips may still contain about 60% of the RDA). They are also known to be a cooling herb as well as a relaxant.
Mullein is an expectorant and useful for those that tend to get lung congestion with respiratory illnesses.
Licorice may help relieve painful unproductive coughing, act as a soothing expectorant, and reduce inflammation in the mucous membranes throughout the body.
Echinacea is an immune stimulant and good to add in when you take it at the first sign of illness.
Ginger has anti-viral actions, helps to stimulate the immune system and is a warming herb.
*Herbal information taken from multiple sources, including The Herbarium, and is meant for educational purposes. Please speak with a qualified herbalist to figure out which herbs are best for your situation.
Three – In order to keep your syrup making, and the dosage, consistent make sure to steam the liquid to the same measurement each time. And keep track of what works best for you and your family!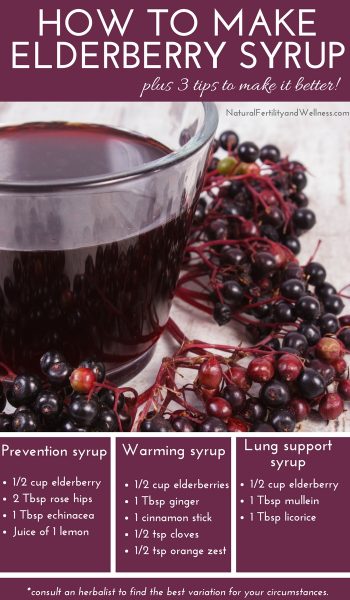 How to make elderberry syrup:
1/2 cup dried elderberries (or one cup fresh)
1/2 to 1 cup honey
2 cups water
optional herbs: rose hips, mullein, cinnamon, cloves, licorice
optional ingredients; 1 Tbsp lemon juice, vodka or brandy
1. Place 1/2 cup of dried elderberries and two cups of water in a small saucepan over medium heat.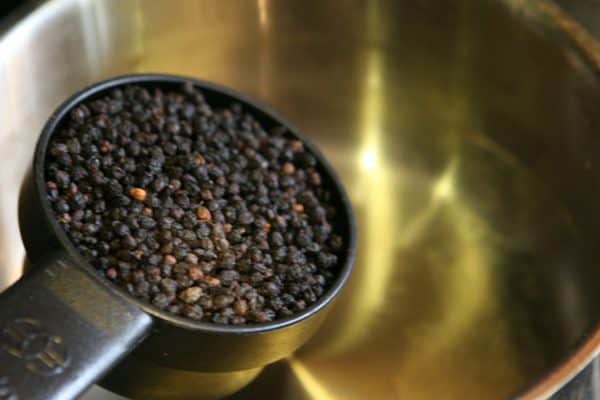 2. Once it begins to steam, keep at this temperature for approximately 30 minutes. Do not let it boil! I find that boiling will cause the taste to be…..off, and a bit bitter.
3. Strain out the berries and herbs.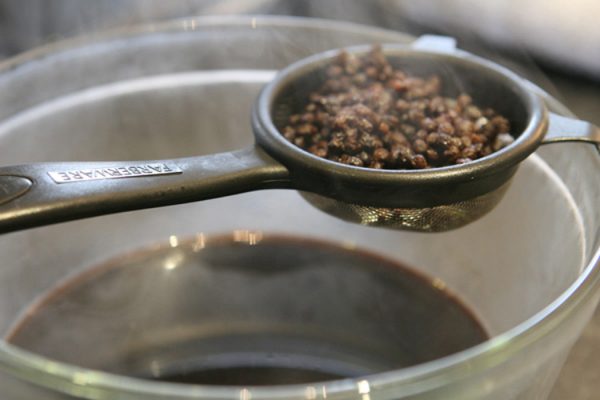 4. and then just use the back of a spoon to squeeze out any juice left in the berries. Just don't press too hard or you'll get a bit of the solids.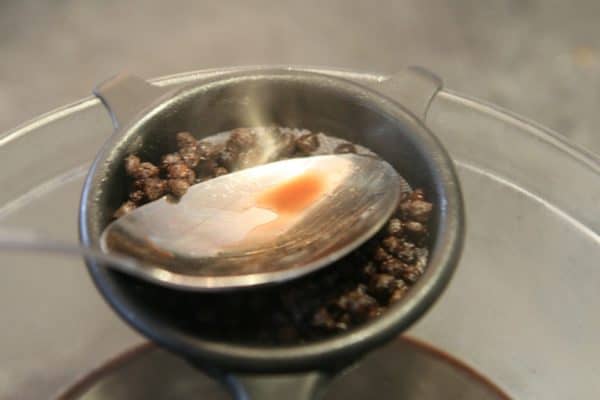 Measure the liquid remaining. If you have more than one cup, place it back into the pan and steam until reduce to one cup. The reason we reduce the liquid is to make this into what is called a decoction and it reduces the amount we need to take. This also makes sure that we have consistency in dosing! If you have 1 cup of liquid one batch and 1 and a half cups left the next time, the dosing won't be the same.
6. Once cooled to warm room temp, add in the honey and stir until combined. Honey has it's own antiviral properties and is also used to make it taste great and acts as a natural preservative. Raw honey is the best option to use, which is why you'll want to wait until the liquid cools before adding. This way you'll protect the properties of the honey.
If you don't have access to honey, or simply don't have any at home and need to make elderberry syrup, you can also use sugar, you just won't get any additional antiviral properties like you would the honey. Some diabetics also find that sugar doesn't spike their blood sugar as much as honey, so in that case, sugar would be a better option. (you could also use stevia to sweeten for a sugar-free option, though I tend to find the aftertaste offputting)
For preservation purposes, you need to use a 1:1 ratio of liquid to sugar. If you plan on consuming it within the week, just sweeten to taste. (I find that 1/2 cup is sweet enough!) You may also add a few tablespoons of vodka or brandy to enhance flavor and preservation. Many times I'll add one tablespoon of my elderberry tincture.
Fresh lemon juice is a great addition to elderberry syrup! It adds about 30-40mgs of vitamin C if you use the juice of one whole lemon and it balances out the flavor profile perfectly.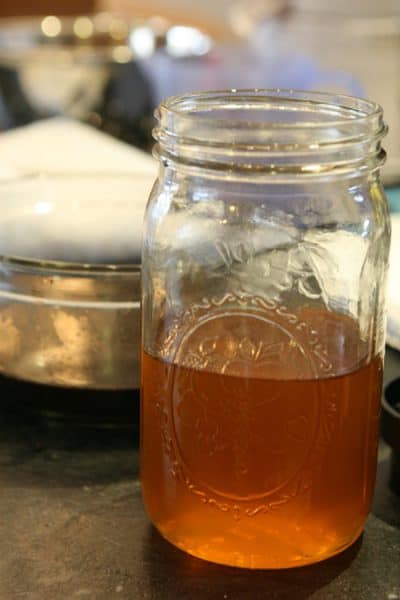 7. Once thoroughly combined, just place into a storage jar and keep in the fridge!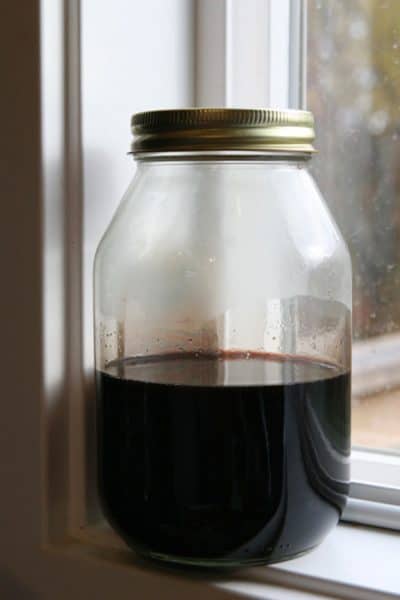 I find that the syrup lasts for a few weeks in my fridge when I use a full cup of honey and add in a tablespoon or two of vodka or brandy, though usually, we go through it more quickly than that.
If you'd rather have elderberry on hand for the adults in the family, you can also make an elderberry tincture which will keep for many, many months and does not need to contain any sugar.
I also recommend getting dried elderberries from Mountain Rose Herbs! While my preference is to use fresh berries, those are only available for a couple of weeks each year (and you have to go pick them yourself!) so I've purchased dried berries from the above stores many times myself.
Print Recipe
Tips for Making Elderberry Syrup
Ingredients
1/2

cup

dried elderberries

or one cup fresh

1/2 to 1

cup

honey

2

cups

water boiling water

optional herbs: 2 Tbsp dried Mullein

Ginger, Rose hips, Licorice, or 1 stick cinnamon

optional ingredients; 1 Tbsp lemon juice

vodka, or brandy
Instructions
Pour boiling water over dried berries (and rose hips if using).

Let steep for 20-30 minutes.

Strain out the berries, use the back of a spoon to squeeze out any juice left in the berries, being careful not to press the berries through.

Place the liquid back into the pan and heat only until it begins to steam, do not let it boil.

Once liquid has been reduced by half, let cool.

Add in honey (and lemon juice if using) and stir until combined. For preservation purposes, use a ratio of 1:1 liquid to sugar.

Add a few tablespoons of vodka or brandy to enhance flavor and preservation if desired.

Place into storage jar and keep in the fridge.