Adrenal Calming Infusion (tea for adrenal support)
I don't know about you, but when I first heard the term adrenal fatigue I pretty much ignored it. I mean…I thrive on keeping busy. I am a born "do-er".
But in the last couple of years, I have literally been through some of the darkest health days I have ever experienced because I chose to ignore the very apparent adrenal issues I was suffering.
Back to back pregnancies followed by a miscarriage and then very quickly and unexpectedly getting pregnant shortly after that threw my body into a deeper level of adrenal fatigue to complete exhaustion. Nothing. Nada. I wasn't even registering cortisol on the charts because I flat-out didn't have any.
In the last 18 months, I have thrown myself head first into healing my adrenal health which in turn has uncovered the root of many longstanding thyroid issues I have just dealt with for many years. It has also given me great respect for this thing called…enjoying life. Relaxing. Taking a deep breath. Sitting DOWN. Chilling out.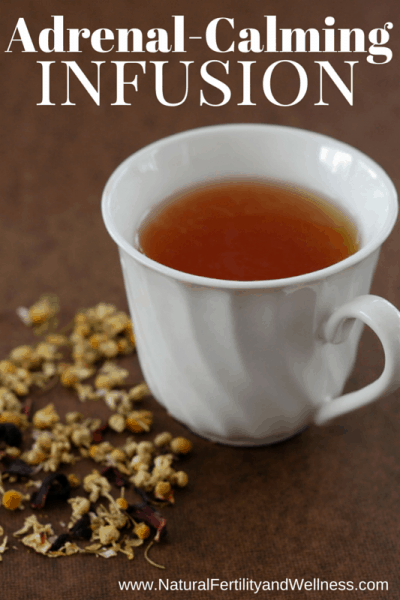 I am not completely healed. But I am functioning at a level I haven't functioned at since well before I had children. One of the things I really needed help with doing was relaxing enough to sleep well at night. I just physically couldn't do it on my own. All the downtime, healthy food, and deep breathing in the world just couldn't settle my frazzled nerves. And sleep is what my body was craving the most at this point.
I started making this after dinner adrenal fatigue tea last year and it really helped my quest for better sleep habits. I would make it right after dinner and let the herbs infuse the water and drink it when my kids went to bed. An hour later I was definitely ready to rest which was perfect timing. I made myself bedtimes. I took some time out for *me*. And used my "do-er" personality to dive head first into the task of healing my body from fatigue.
It's just a simple step – but giving your body a little help to wind down in the evening so you can rest well could be the first and most important step to your own stress and adrenal healing.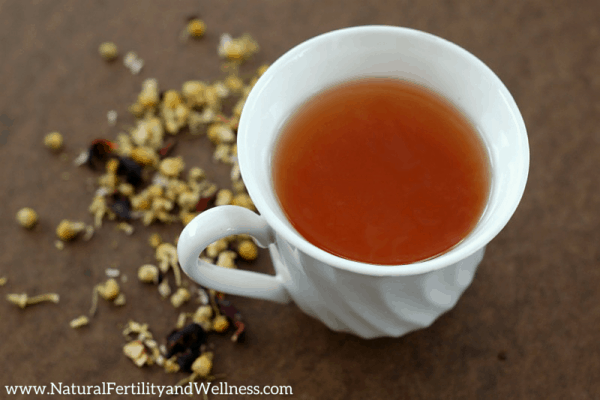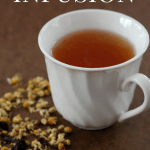 Print Recipe
Herbal tea for adrenal fatigue
A perfect tea to drink and night while you unwind.
Ingredients
1

cup

hot water

1

tsp

dried chamomile

½

tsp

dried hibiscus or rose hips

Pinch

of sea salt

1

tsp

honey

to taste

squeeze

lemon

optional
Instructions
Pour the hot water over your dried herbs and steep anywhere from 5-10 minutes (this will make more of a "tea") or over a couple of hours (this is called an "infusion" and is a little stronger than tea). I like to use my French press so the herbs are strained out as I pour.

After the herbs have steeped you can strain them out, add the pinch of sea salt, and squeeze the lemon and stir in the raw honey to your taste.
Nutrition
Calories:
21
kcal
|
Carbohydrates:
5
g
|
Sugar:
5
g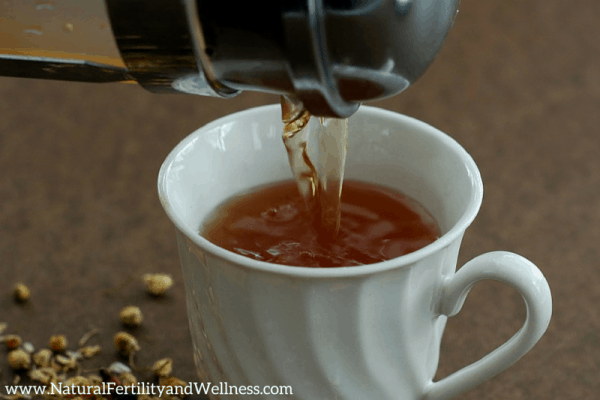 Herbal information
Chamomile – traditionally known for it's relaxing properties, dried chamomile is often used before bedtime or during moments of mental or emotional stress.
The small white flowers have a slightly sweet scent pleasant flavor. It is part of the ragweed family, so a person with extreme ragweed allergies may want to use caution.
Hibiscus – Just a bit tart, hibiscus adds a wonderful red color to the tea as well as plenty of antioxidants. Avoid if you have gallstones.
Rosehips – the dried fruit of certain species of roses is a great source of vitamin C and antioxidants and adds a slightly tart flavor to the tea.