One of the great things about going gluten free for us has been the fact that it's stretching my skills in the kitchen and thoughts on food as well as opening us up to wonderful new flavors. A couple weeks ago my husband loved this new dressing I came up with so much I thought I might just get proposed to again! And not to toot my own horn or anything, but I found it pretty delicious as well. It's a great creamy dressing with a bit of a spicy kick to it, great for topping something like a taco salad.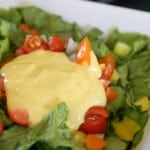 Print Recipe
Homemade Spicy Dressing
Ingredients
2

raw egg yolks

from pastured birds please!

juice of half a lemon

1-2

jalapenos

depending on your 'spicy' threshold

2

cloves

of minced garlic

1

teaspoon

taco seasoning

1

cup

oil

olive, avocado, flax, sunflower, or a mix

sea salt to taste

1-2

Tbsp

buttermilk -optional

1

Tbsp

whey -optional
Instructions
Place the egg yolks, lemon juice, jalapenos, (I don't use the seeds, but you may use them if you happen to not like your tongue) garlic, and seasoning into a blender or food processor.

Blend on high until ingredients are well mixed. Slowly add in the oil. I find this works best when I pour it out of a container with a spout. If you add it to quickly the oil and egg won't emulsify and well….it just won't work. So pour the oil in as a very thin stream; it'll most likely take a full minute to pour it in.

Once the dressing is nice and thick, like mayonnaise, go ahead and turn the blender off and add salt to taste. I add mine in at 1/4 teaspoon increments, blend for just a moment after each addition.

This dressing is wonderfully creamy and thick! If perhaps you'd like a thinner or more 'pourable' dressing, add in enough buttermilk to get it to the consistency you desire. Refrigerate for up to a week.
Notes
Lacto-fermented directions: After the dressing is finished, add in 1 Tbsp of whey and let sit on the counter for about 8 hours. Serve or chill for later use.