Herbs can be a wonderful addition to a healthy diet to help balance hormones and cleanse the body. Recently I've made myself about a quart of basic fertility tea each day and enjoy drinking it over ice. It's a fabulously refreshing on our hot and humid days, and I love knowing that it's nourishing my body as well as hydrating it.
Using herbs for a fertility tea blend may help support your reproductive system and you can easily customize it to your needs.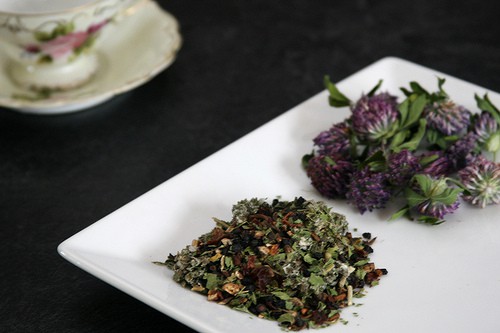 I find that this simple mix offers me what I need for now and I'm not only happy with the changes I see happening, but also with the flavor. There may be other herbs that you enjoy using and the possibilities are endless!
Herbs I find helpful in a Fertility Tea Blend
red clover – known for cleansing the blood, supporting the uterus, helps to alkalize the body, and has high mineral content.
dandelion root – known to purify and builds the blood, helps increase production of bile, cleansing the liver and keeping digestion moving, is rich in potassium, overall benefits the female organs
nettle leaves – traditionally known as a blood purifier, may also increase the efficiency of the liver and kidneys, may help with the imbalance of the body's mucous membranes. Also known as a uterine tonic and is high in minerals.
red raspberry leaf – herbalists for centuries have known this herb to be great for the female reproductive organs – strengthens the uterus, some women find that it helps to decrease a heavy period, also aids in pregnancy support, and high in minerals.
rose hips – a good source of vitamin C, offers immune support, and good for stress.
Other herbal options would be something like vitex and/or dong quai – both help to normalize the menstrual cycle in some women but note that dong quai should not be taken alone and should not be taken during pregnancy. These herbs should be used under the guidance of an herbalist as both are not helpful for every woman.
Print Recipe
Fertility Tea Blend
A basic blend to lend support to the reproductive system.
Ingredients
1

Tbsp

red clover

1

Tbsp

dandelion root

1

Tbsp

nettle leaves

1

Tbsp

red raspberry leaf

1

Tbsp

rose hips

lemon juice

to taste

honey or stevia

to taste
Instructions
Boil 4 cups of water and add the herbs to either a french press or mason jar (you'll have to strain it later.

Pour the boiling water over the herbs and let sit for 3-4 hours, straining into a jar when finished infusing.

Stir in a small amount of honey or stevia if needed for sweetness and a bit of juice from a lemon. Refrigerate and drink throughout the day.
Notes
Optional Tastiness: I also add in the following on occasion (about 1 teaspoon each) to change up the flavor and include other nutrients: red rooibos tea – contains high levels of antioxidants and minerals, boosts the immune system, helps with nervous tension, and soothes digestive problems. elderberry – immune booster and flu fighter, ease inflammation and pain, and soothe the intestines dried cranberries (sugar and sulphur free)- adds wonderful flavor, digestive aid, helps to prevent urinary tract infections and contains anti-inflammatory properties.
Nutrition
Calories:
15
kcal
|
Carbohydrates:
3
g
|
Potassium:
56
mg
|
Fiber:
2
g
|
Vitamin A:
9.4
%
|
Vitamin C:
38.2
%
|
Calcium:
4.8
%
|
Iron:
0.7
%