Fermented foods have the ability to make food easier to digest as well as provide our bodies with needed nutrients. Sourdough is one of those fermented foods and my goal for a while has been to make a gluten free sourdough starter.
It's been a few years since I've taken the time to experiment with sourdough bread, it always seems so tricky… and I got tired of baking bricks. I was able to make a few good loaves, but never with consistency. The one sourdough food we really loved though was pancakes. So easy to make and deliciously light.
We then went gluten-free and gave up bread, for the most part, making only a loaf of yeasted gluten-free bread every few months. (those flours are pricey!)
Benefits of sourdough
As we discussed before in my post about digestion, preparing foods properly is really important. It helps our bodies absorb more nutrients and it is easier on the gut, causing fewer issues. One of the ways to properly ferment grains (bread) is to use the sourdough method.
This method has been used for centuries; our great-great-grandmothers worked in their kitchens making this traditional bread, their cupboards held a jar of the starter. Instant yeast was not easily accessible, if available at all, so sourdough was the only way they could get bread to rise.
"Sourdough breads are leavened by a starter that contain natural yeasts and acids. The airborne yeast creates the enzymes needed to eat up or predigest some of the toughest-on-your-belly parts of the grain. This action creates carbon dioxide, which gets trapped in tiny pockets of dough, resulting in a natural rising of the bread." –Shannon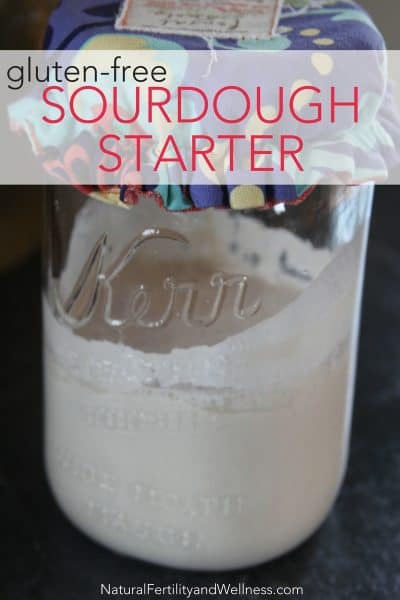 How sourdough changes bread
Preparing bread using a sourdough method is also known to break down the gluten when using wheat flour, lowers the starch content of the grain as the bacteria present consume the sugars and starch, and it also neutralizes an enzyme within the grain called phytic-acid. (phytic-acid isn't "bad" in and of itself, though it is better to reduce the amount we consume in our overall diet)
Through the process of lactic acid, fermentation also activates the phytase to hydrolyze (dissolve) the phytates, thus freeing up minerals such as zinc, iron, magnesium, copper, and phosphorus. (source: Katie Kimball)
All in all, sourdough bread is much easier for the body to digest and as an added benefit it makes it easier to absorb more nutrients from the grain itself.
How to Make a Gluten-Free Sourdough Starter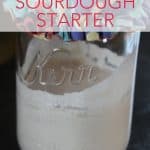 Print Recipe
How to Make a Gluten Free Starter
Perfect for all of your GF sourdough needs.
Ingredients
4

cups

brown rice flour

3

cups

filtered/non-chlorinated water

2

Tbsp

water kefir

optional
Instructions
It's important to have water free from chemicals, specifically chlorine as it may damage the starter. If you have city/tap water (versus your own well) you can place a jar or bowl of water, uncovered, out on the counter overnight. You can also boil the water for ten minutes and let cool to room temp.

Day one through day four you are going to place 1/4 cup of flour and a scant 1/4 cup of water into a jar and stir with a wooden (or plastic) spoon every morning and every night. I find that when making a starter, it's helpful to feed it twice a day for the first few days. Cover your starter with a thin towel or cloth jar cover. (I've also used coffee filters and rubber bands which work well)

If your starter doesn't seem very active, you can "boost" it a bit by adding a tablespoon of

water kefir

.

By day five your starter should be bubbling along and able to sustain just one feeding per day, so each day you add 1/2 cup of brown rice flour and 1/3 cup of water. The consistency we're looking for is going to be like cake batter, so add more or less water based on how yours looks. (the current humidity will affect how much water you need to use)

At day seven you should have enough starter to make your first sourdough recipe!
Notes
It is important to keep your starter in a warm place; if it gets too cold it won't be active enough to work. I find that keeping mine in the oven with the pilot light on can help immensely during the cold winter months. Others find that they can place it next to the stove or on top of a refrigerator for warmth.
This starter can also be used to make a gluten-free artisan sourdough loaf as well as gluten-free sourdough pancakes! Gluten-free starters tend to not last as long as their wheat counterparts and I find myself making a new one about once a month.
In my goal to make more ferments in our home, I'm beginning to experiment again, and we currently have a nice little gluten-free sourdough starter happily fermenting away on the counter.