When it comes to summer meals, light and refreshing is usually what comes to mind. But the bounty of summer produce does more than excite out palates! Fresh greens satisfy the need to crunch, yet offer our bodies a much-needed rest from the heavy meals of winter and help cleanse our bodies. Fresh herbs bring flavor to dishes that cause your taste buds to dance and you can once again enjoy your food and the new flavors summer brings. Make this simple green salad to brighten up your plate!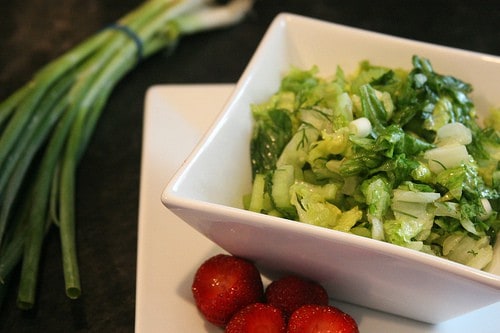 Summer for me also brings a time where I'm able to once again break free from our little one acre of space, the roads clear enough to travel on, the children easier to corral out the door without being hidden under 5 layers of clothing. We get to spend time with friends; to play, to talk, to eat. This recipe stems from such a gathering last week, where my children and I were blessed to be fed by a good friend. The longer I've lived my life, the more I want to experience new flavors, and this one truly 'hit the spot' so to speak. So much so, that I bought the ingredients for it the very next day.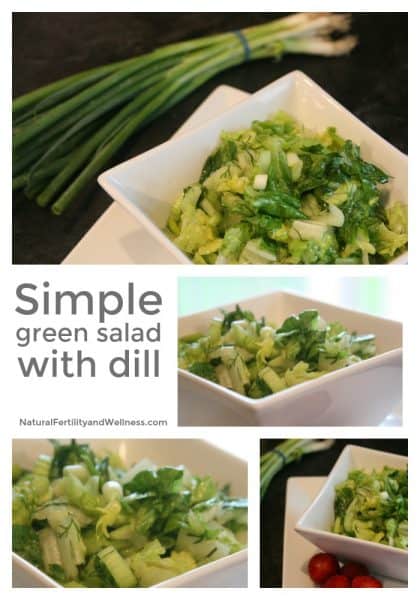 This is the perfect side dish when grilling burgers on the grill or paired with some baked chicken. It's also great to throw together for a quick lunch, just have a couple of hard boiled eggs on the side for some protein.

Simple Green Salad with Dill
Ingredients
1 bunch romaine lettuce, chopped
4 stalks celery, chopped
½ bunch (approx 5) green onions
1 medium cucumber
3 Tbsp fresh dill, chopped
2 Tbsp extra virgin olive oil
3 tsp fresh squeezed lemon
⅛-1/4 tsp seasoning salt (to taste)
Instructions
Wash and chop all vegetables and dill, and place in a large bowl.
Pour the remaining ingredients over the veggies, and toss to coat.
Serves 2 large salads or 4 side salads.