Oatmeal has been a staple breakfast in my house for as long as I can remember! When I was a kid I ate the sweetened instant packets and now as an adult, I love steel-cut oats. Here are a few tips I've picked up over the years for making healthier oatmeal.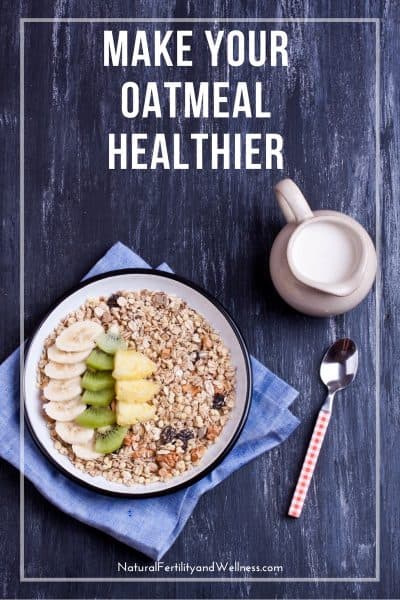 Soak the oats before you cook them
In order to properly digest and absorb nutrients from oatmeal, it needs to be soaked along with an acidic medium to help release the phytic acid it contains. Some say that this doesn't matter when using rolled oats as they have already been processed under heat, others still find it important.
To soak oats place 1 cup of oats in 1 cup of warm water along with 2 tablespoons of plain yogurt, kefir, or vinegar. Let sit (covered) overnight. Rinse the oats if you'd like (not necessary but I don't care for the sour taste of kefir in my oatmeal) and then you can either place in a pan with another 2/3 to 3/4 cup water and cook for breakfast or toss them in the dehydrator for making granola bars. They don't take more than a few hours in the dehydrator. They will be kind of 'crumbly' after drying, just break the oats apart with your fingers.
Here's what mine look like after drying: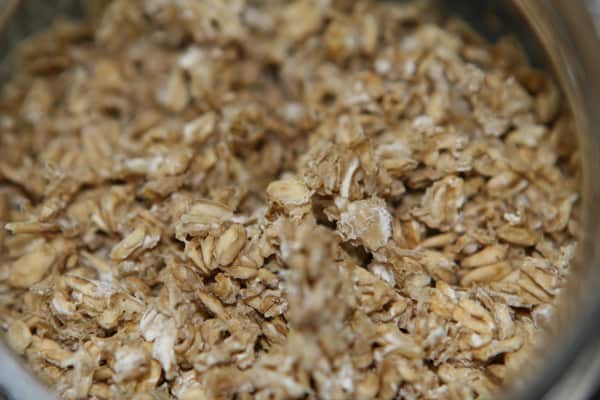 Adding protein to oatmeal
Oats have a lot of beneficial nutrients, but they are best paired with some protein! Adding protein to your carbohydrates can help slow the insulin response after your meal.
greek yogurt
cottage cheese (for either savory or sweet)
chopped nuts or chia/flax/hemp seeds
almond or peanut butter
go savory and add cheese and either beans or leftover chicken or turkey
bacon
eggs – either cook them in (like baked oatmeal) or eat on the side
use milk instead of water for cooking
Add a healthy fat
Fat is an important part of any diet. It keeps us satiated as well as gives our body the building blocks it needs for hormone production. Try adding a pat of butter, a spoonful of coconut oil, or stirring in some heavy cream or almond butter.
Add a quality sweetener
Nothing makes a hearty bowl of oatmeal go from healthy breakfast to dessert like a few spoonfuls of sugar! But that doesn't mean you need to eat a bland bowl of oats either. Here are a few of my favorite ways to sweeten without making it dessert:
Use maple syrup instead of white sugar. Limit yourself to less than 2 teaspoons – it has such a lovely rich flavor!
Chop up some fruit, or use dried fruit to reduce the amount of sugar you use. Bananas, cooked apple, blueberries, cherries – all great choices!
Alternative sweeteners are also an option but stick to something a bit less processed like stevia or a stevia/erythritol blend
My favorite way to top a bowl of oatmeal right now:
splash of cream,
pat of butter,
about a teaspoon of maple syrup,
1/4 chopped banana,
tablespoon of almond butter,
chopped walnuts,
and a teaspoon of mini chocolate chips