Have you been diagnosed with PCOS and finding it difficult to conceive? You might even have symptoms of low progesterone as well and not know which issue to focus on first. I've been in the same boat a few times and managed to get pregnant four times (three full-term pregnancies) even when my first OB told me I'd probably need ovulation stimulating meds to do so. I'd love to help you out and share some of the research and resources I've found for getting pregnant with PCOS.
First things first – do you know what TYPE OF PCOS you have?
Yes! There are multiple different types of PCOS (at least FIVE)! And if you don't know your type, you'll simply be shooting in the dark trying to figure out which diet and supplements are going to help you reduce your symptoms. The thing is, with PCOS we have to remember that it's a syndrome. This means it's simply a large group of common symptoms, you may have a few of them or you may have many.
some women have "thin" PCOS and no problems with weight gain while some have PCOS with weight they can't seem to lose
some women have follicles that don't burst correctly and turn into cysts, others have no cysts. (in fact, the "cysts" they see on ultrasound are really underdeveloped follicles that didn't release an egg at ovulation)
some women never ovulate, others ovulate regularly
The reason we often have so many different ways to treat PCOS is that the root cause of our PCOS is different!
My FAVORITE resource for figuring out which type of PCOS you have is the book The Period Repair Manual by Lara Briden, ND. She does a fantastic job explaining PCOS and helping you figure out your type (using symptoms as well as recommended lab work). She also offers different nutritional guidance and recommendations for supplements.
Two – you CAN get pregnant without a period!
I get asked this all the time – "How can I get pregnant without my period?"
We can get pregnant without a period, but we can't get pregnant without ovulation! Unfortunately, we (many doctors included) get so focused on how to have a period that we often take progesterone (or sometimes herbal blends) in order to force one. This, however, isn't a true period, but a withdrawal bleed.
Sometimes it works.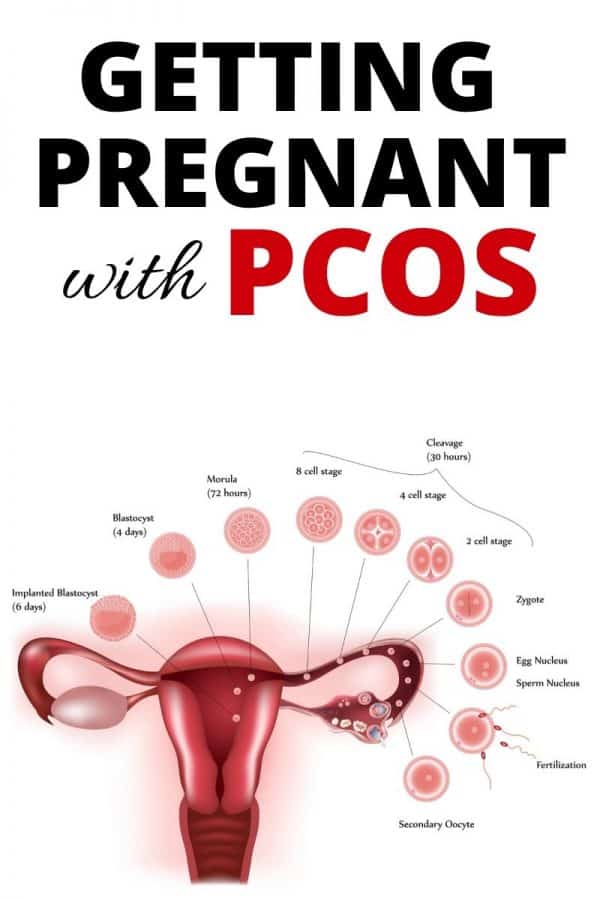 Other times it simply causes more hormone imbalance as we throw our bodies a curveball. Giving it progesterone when maybe it's in the midst of trying to create estrogen may cause problems!
The focus needs to be on supporting ovulation. If we can ovulate we can either get pregnant (sometimes before a period actually shows up!) or we'll see a natural period about 14 days after ovulation.
Personally, I've had two pregnancies during long cycles. One with a four-month cycle and one with a five-month cycle. (I've also gotten pregnant with PCOS after miscarriage and after I turned 3o.) The key to getting pregnant during this time was learning my fertility signs! Had I not noticed the fertility signals my body was giving me I probably wouldn't have tried to conceive those weeks.
If you don't know how to notice fertility signs in your body, let me help you learn it! I have a quick guide here – Charting for fertility basics. It's really easy to learn, albeit a bit trickier with PCOS since it can take a couple of cycles for you to notice your individual fertility signs. Learning how to chart for fertility is my TOP TIP for learning how to get pregnant without regular periods!
Another book recommendation I have is Taking Charge of your Fertility. It's seriously one of the best books I've read and I feel like every woman should read this to get a better understanding of their body!
Three – your weight matters with PCOS
But it's not what you think!
So often we focus only on the numbers of the scale, but weight is so much more than that. It's simply another symptom of the way our body is dealing with our nutrients, lifestyle, and genetic makeup.
You can get pregnant if you're overweight and one of my favorite fertility coaches for this is Nicola Salmon. She wrote a book called The Fat Person's Guide to Getting Pregnant which may be helpful for you.
Instead of focusing on the weight, focus on healing your relationship with food, and learning to treat your body well. Because self-care is more than baths and manicures! It's carrying out the discipline needed to make sure you feed your body well, work through emotions instead of eating to ignore them, and moving your body in ways that bring fresh blood flow to your organs and make you feel good.
I also want to get really REAL here a minute with you.
How's your mental health? Are you overwhelmed, often irritated, and have a hard time doing the things you know you should for your body?
Your mental health is going to reflect in the ways that you eat and move your body! If you don't deal with the crap that's holding you back, it doesn't matter what you eat or what supplements you take. Depression and anxiety will make it hard to discipline yourself out of an unhealthy lifestyle. You're going to need to do the hard mental work, whether it's with a therapist or you take the journey to self-heal.
And while we're talking about weight, everyone always wants to know how to eat when they have PCOS.
The best diet for PCOS
Imma break it down for you – there is no "best diet" for PCOS. Sorry!
Many people (even experts) tout the benefits of keto for PCOS right now. Lots have a short term benefit of weight loss. Some people find they do better with some carbs while still cutting out processed foods. I wouldn't recommend keto until you've cut out all added sugar to your diet and walked daily for 3-4 months.
Cutting out all animal foods is another popular opinion, but it isn't always the best option for every person.
Your best diet is going to be one that
is sustainable
helps you balance blood glucose levels (getting a meter is super helpful to see how foods affect you!)
keeps you energized and in a good mood
is full of veggies and quality protein
super low in processed and sugary foods
After that, it's up to you and your health care practitioner to figure out if you need to try a specific elimination diet. (gluten-free, paleo, keto, etc)
IMPORTANT NOTE – You did not cause the PCOS, but you can take action to treat your body well and reduce your symptoms. Many times this means the weight begins to come off naturally.
The MOST IMPORTANT tip for healing PCOS
Find a health care practitioner that's willing to look beyond your diagnosis and/or beyond your weight.
From my own experience, I've noticed that as soon as most doctors see, hear, or give you a PCOS diagnosis they stop helping you research the cause and focus only on their normal treatments (progesterone to force a bleed, ovulation stimulating meds, and metformin for weight loss).
You are your biggest advocate and it's important to find a practitioner willing to listen. <3
Unfortunately, it's not always easy to find doctors that prefer using natural methods depending on your location! If this is where you are currently stuck, I'd suggest researching the following:
Napro doctors – They utilize Natural Procreative Technology which they call a fertility-care based medical approach rather than a fertility-control approach to family planning and gynecological health. Napro uses the Creighton Model of fertility charting to help identify the problem. (likely to take insurance)
FEMM doctors – Fertility Education & Medical Management that provides medical testing and treatment based on new research and medical protocols. They also have their own fertility charting system to help diagnose and treat hormonal imbalance. (likely to take insurance)
Naturopathic doctors – Depending on your state, they may be able to run labs and prescribe medications or they will work under a MD so that the office can still provide those services. They are trained in the art and science of both natural and conventional medicine and attend four year accredited medical schools and are trained as primary care providers. (some take insurance based on the state and if they work with an MD)
There are also a large number of other natural health practitioners to seek out; herbalists, naturopaths (different from above described NDs), chiropractors, acupuncturists, craniosacral, and massage therapy to name a few.
We also live in the fantastic age of the internet and can find practitioners that will work with us virtually! It's not uncommon for many of them to work with you through video services, email, and text. So if you can't find someone to work with you locally, hop on the internet and start searching!
What are your biggest concerns?
If you've been trying to conceive for some time with PCOS, what are your questions? Let me know in the comments below and I'll see if I can help!
Click below for more resources about getting pregnant with PCOS: