After last weeks Real Food Twitter Party (and yes, I realize I never re-cap'd it – tweetchat and twitter now won't let me go back that far and swipe the tweets I'd like to) I thought I'd try some spelt flakes out for breakfast instead of our traditional oatmeal. The reason being, that it's currently being debated whether or not soaking just overnight releases the anti-nutrients in the oats. Some very knowledgeable folks are saying it takes much longer and since I'm not as knowledgeable, I think I'll take their word for it until I'm able to really research it myself.
Anyways…..so I thought I'd try out spelt flakes.
Now to soak rolled grains like this, you just add 2 Tbsp of whey, yogurt, kefir, vinegar, etc. to one cup of warm water and add in one cup of rolled grains. One cup is quite plenty for myself and my 3 year old, and we usually have some leftover. Once mixed together, keep in a warm spot overnight or up to 24 hours.

(I've been keeping my soaked, fermented, and cultured products in my oven with the light on to keep them warm since it's so cold right now here in Michigan. L to R soaked spelt flakes, sourdough starter, water kefir w/ grains, water kefir w/blueberries)
Once they've soaked at least overnight, they're ready to use!
This next step is one of personal preference. I rinse it out in a colander before cooking. You don't have to, and many people do not, but I find that I like the flavor much better if I can rinse out the acidic taste!
Once I rinse them out, I place them in a saucepan with about 3/4 – 1 cup water.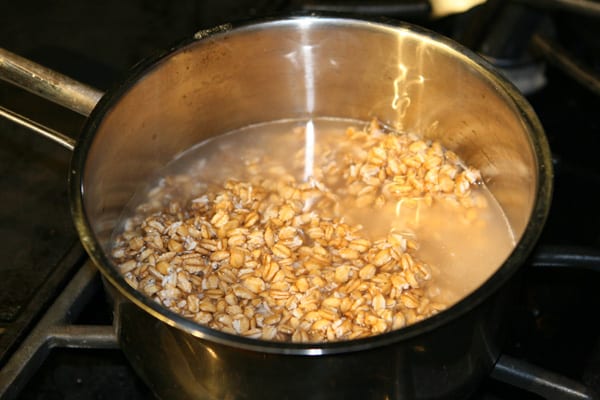 I cooked these for about 3 minutes or so, until the water was gone. Though I am wondering if I should have cooked them at a lower temp longer to help with the chewiness. Hmmmm….thoughts anyone? Or maybe I'll try again next week!
Our favorite toppings include raisins, chopped 'crispy' almonds, some butter, raw cream, and a bit of maple syrup.
Level of difficulty – Easy
Cost – $.52 plain (for 1 cup or 2 servings) $1.00 with toppings
Time – about 1 minute prep time the night before, 8-24 hours soaking time
Taste – Wheaty and a bit chewy, but tolerable. Much better w/ the toppings and a bit more syrup.