Balancing your hormones can be tricky, but it's not impossible. Especially when you change your diet and get all of the nutrients you need! The following sample fertility diet menu and tips are brought to you by Liz Schau, a graduate of the Institute for Integrative Nutrition for Certified Holistic Health Counseling, as well as a member of the American Association of Drugless Practitioners. Visit her at LizSchau.com
saturated fat and cholesterol (from healthy sources; pastured, organic, etc.),
probiotic/fermented foods and drinks,
low-grain/glycemic,
properly prepared nuts/seeds/grains/legumes,
no food allergens (gluten and casein are the big ones),
organic foods with no pesticides,
functional foods.
Reasons behind my fertility diet recommendations:
Cholesterol is often called "the mother of all hormones" as our bodies need it to create hormones. Saturated fat, among other things, stimulates thyroid function and acts as an antimicrobial on our gut pathogens. Probiotic foods balance our gut flora, and our gut flora synthesizes hormones and stop autoimmune processes which often cause hormonal imbalance. Grains and food allergens are often other sources of hormonal imbalance, so by eliminating them or only eating soaked/sprouted/fermented grains and legumes, we aide our hormones. And of course, choosing organic, grass-fed, pastured, and wild-caught whenever possible is also essential because toxins and chemicals from food not only make our meals less nutritive but also hazardous to our health. Above all, I encourage my health counseling clients to saturate their bodies/diets with lots of fats and tons of probiotic foods.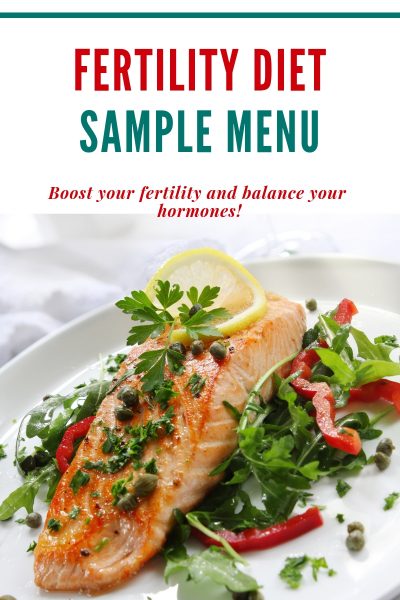 Below is an example of an ideal menu. But things don't have to be perfect for us to be able to balance our bodies and hormones naturally and to see results from hard work. We all take short cuts, and being perfect isn't essential; making mostly the right choices over the long-run is what is important. Also, driving ourselves crazy about not making perfect choices with the purest food is a good way to cause gut dysfunction and more hormonal imbalance. Relax, enjoy what you eat, and find beauty in life. Do not expect yourself or your situation to be perfect and give yourself lots of time.
Day 1:
B: Oatmeal soaked overnight in yogurt of your choice (coconut milk yogurt for those who are sensitive to dairy), cooked with ghee, coconut or nut milk, pumpkin pie spice, sea salt, and raw honey or another sweetener of your choice. Serve with herbal tea (using filtered water).
L: Wild-caught tuna salad (celery, mayo, probiotic pickle juice, raisins) over mixed greens with probiotic pickles and apple slices.
D: Middle eastern kebabs (with the meat of your choice) served with Tomato, Onion, and Cucumber Salad, Quinoa Falafel and tahini dipping sauce made with probiotic dairy (for those who are dairy-free, make Cashew Sour Cream)
Day 2:
B: Tex-Mex breakfast taco: sprouted corn tortilla fried in coconut oil, topped with fried egg, salsa, and guacamole. Served with water kefir.
L: Antipasto platter: water-packed olives, roasted red peppers, organic pepperoni (or other cured meat), smoked wild-caught fish, macadamia nuts, raw sheep's milk or goats milk cheese (for those who are not sensitive).
D: Crispy-skin roast chicken with Bragg's Seakelp Delight Seasoning and basted with coconut oil served with roasted sweet potatoes, carrots, and parsnips basted in coconut oil. Serve with sauerkraut on the side.
Day 3:
B: Bacon slices and Old-Fashioned Refried Beans (can use bacon grease in place of ghee), caramelized onions and peppers. Served with water kefir.
L: Cold Asian noodle salad (with buckwheat, sweet potato, or mung bean noodles) topped with shredded chicken, sliced pork, fried egg or other protein of your choice. Serve with probiotic kimchi.
D: Slow cooker meatballs in tomato sauce (using homemade stock as a base), served with roasted acorn squash (topped with ghee and nutritional yeast), sauteed garlic and kale in olive oil. Serve with sauerkraut on the side.
Day 4:
B: Quinoa porridge with apples and dried cranberries. Serve with water kefir.
L: Loaded sweet potato (with a fat of your choice: ghee, coconut oil, yogurt/kefir, etc.), nutritional yeast, scallions, Hemp Seed Creamy Peppercorn Ranch Dressing (or raw sheep or goats milk cheese, if you are not sensitive), sausage crumbles or fried egg. Serve with probiotic kimchi.
D: Coconut shrimp (made with gluten-free flour, and fried in coconut oil) with apricot dipping sauce, and seaweed salad. Serve with probiotic kimchi. (Use tamari or Bragg's Liquid Aminos)
Day 5:
B: Fatty morning smoothie: coconut milk, almond, cashew, or macadamia nut butter, blueberries, chia seeds, vanilla, raw honey, cinnamon, a pinch of sea salt.
L: Baked eggs in tomato sauce (use nutritional yeast in place of cheese, if you are dairy sensitive). Serve with water kefir.
D:Cincinnati-style chili made with bacon grease and homemade stock, with a mixed green salad and homemade probiotic vinaigrette (using Bragg's Seakelp Delight Seasoning, sauerkraut juice, olive oil, mustard).
Day 6:
B: Coconut flour pancakes with maple syrup, berries, and breakfast sausage. Serve with water kefir.
L: Cold crab salad with mayo, capers, and orange, on a bed of mixed greens, herbs, avocado, and sauerkraut.
D: Stuffed zucchini with Mashed Cauliflower (with a fat of your choice; ghee would be a good one), and Chipotle Rainbow Slaw.
Day 7:
B: Crustless quiche with summer squash. Serve with water kefir.
L: Leftovers from breakfast
D: Crispy salmon (use ghee or olive oil) with Almond-Crusted Root Vegetable Fries. Serve with probiotic pickles and sauerkraut.
Need more help?
Let's get you started with a bit more support!
Leave a comment!
Have questions? Drop it below in the comment box, or leave us some ideas on how you choose foods to balance your hormones.