To give you some ideas of how you might be able to change your daily dinners, I'm going to show you a week of what our dinners used to be, and show you what I'm serving up this week (while we mostly eat out of our pantry) by making those same meals better or replacing them. Our complete dinner makeover didn't happen all at once, but over the course of a few months we began to add in more vegetables and I learned how to replace store-bought items with healthier homemade ones.
Our normal weekly dinners before:
Monday – Hamburger Helper (sometimes a veggie made it onto the plates as well, but rarely) can of soda or glass of skim milk
Tuesday – Spaghetti with store-bought sauce, 1lb conventional beef, white flour pasta, skim milk
Wednesday – Hamburgers on white buns, store-bought fries, store-bought ketchup, skim milk
Thursday –  Grilled chicken, broccoli, boxed au gratins, skim milk
Friday – Order Pizza, pop
Saturday – Eat out (fast food), pop
Sunday – Taco meal kit, pop or skim milk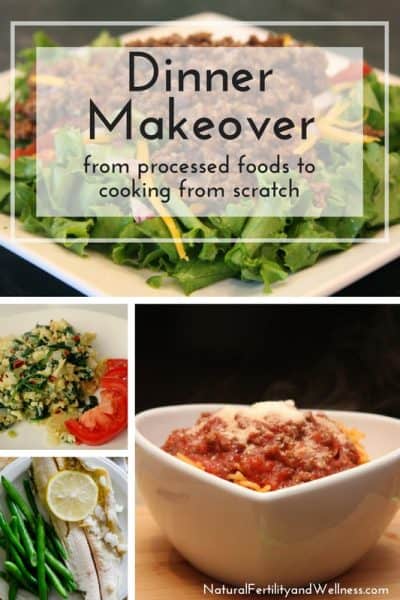 And our normal dinners now:
Monday – Omelets made with free range chicken eggs, loaded with pepper, onion, and mushroom. Sourdough toast with organic butter, and sausage made with grassfed beef.
Tuesday – Spaghetti made with 1/2 lb grassfed beef, homemade sauce and brown rice pasta. Salad on the side.
Wednesday – Grassfed beef burgers on homemade buns, sweet potatoes, green beans
Thursday – Grilled free range chicken, broccoli and homemade au gratins
Friday – Salmon, baked potatoes, and green beans
Saturday – Homemade pizza with homemade sauce
Sunday – Tacos made with grassfed beef, homemade seasoning, and homemade tortilla shells served with a mexican rice (which is made w/ bone broth) and possibly guacamole
(we drink water w/ each meal)
Now is my menu perfect? No.
I always have room to grow and make it better, but at least now we're getting veggies at each meal and most of what we eat is made here at home. And we've essentially gotten rid of all of the preservatives, colorings, fake flavors, etc. You can find more of my recipes on my recipe page.
So what are the biggest ways your menu has changed over the years?