What you eat is so important for your fertility – it was so important to mine that as soon as I started to make dietary changes I began to see results! It took some time, but I gradually went from ovulating once or twice a year to every 8 weeks…then every 4 weeks…and finally every four weeks, getting pregnant 8 months after my initial changes. Once I began to include some of these superfoods for fertility, my body finally started to produce the right hormones.
All foods have nutrients that our bodies need (excluding processed and junk foods of course), but some foods are higher in specific nutrients that really target the reproductive system. Most of them are also helpful in telling our bodies that we are in the "land of plenty" and it's a good time to reproduce.
A quick internet search will fill your screen with plenty of foods from far off places, from Amazon jungles to high mountain top regions, and while those may be super nutritious I believe that no matter where you live there are also local superfoods. We'll cover both local and non-local sources for you!
Many of us no longer consume the foods that nourish our bodies. I definitely didn't! I spent much of our grocery budget buying prepackaged foods, I drank pop and mochas and ate multiple desserts every day. Because I worked out daily and was thin, I sure "looked" healthy, but underneath I was a hormonal mess.
The standard American diet is now full of white sugars and flours, chemicals and preservatives, much of them robbing our bodies of the vital nutrients we actually do consume. Sticking to whole and unprocessed foods is a pivotal part of a fertility diet, but there's also more we can do to optimize our fertility. Let's discuss some local and non-local superfoods for optimizing fertility.
Superfoods for fertility
Eggs
The yolk, in particular, is a nutrient powerhouse of fat-soluble vitamins A, D, E and K2 as well as B6, folate, B12, and Omega 3 fats. Make sure to choose eggs from pasture-raised chickens – this part is important if you can find them! These eggs will be higher in nutrients, especially Omega 3 fats. All of these nutrients are important for cell growth, proper insulin production, and thyroid health along with the development of the sperm and egg. They are also rich in a nutrient called choline – this is essential for proper development of the baby.
Wild caught fish and seafood
Most of our early ancestors and many indigenous cultures relied heavily on seafood, though not many of us make this a focal point in our diets anymore. FIsh and seafood are high in essential fatty acids like Omega 3's that help to reduce inflammation in the body as well as promote ovulation and production of cervical fluid.
Oysters, clams, and mussels are a fantastic source of zinc, an important nutrient for fertility! In men, zinc improves sperm quality and count. Proper zinc levels assist in egg quality for women.
Herring is also a fantastic source of Vitamin D, but you'll find this and many more vitamins and minerals in wild caught fish. Iodine, in particular, is very important to thyroid and hormone production and is found in higher amounts in animals and plants in the ocean. (not necessarily local to all of us, but it is important to source some wild caught seafood!)
Butter
Without proper amounts of fat in our diets, we can't produce hormones! The saturated fats help our bodies produce cholesterol and we use that cholesterol to produce reproductive hormones like estrogen, progesterone, and testosterone. Without enough good fats in our diet, we simply can't produce enough hormones to get pregnant.
Butter, in particular, is a great source of fat soluble vitamins and is great to include in any diet, especially one for fertility. However, it is important to source butter from cows raised organically and grass-fed, you'll notice it's deep yellow coloring and rich flavor.
Other good fats that can be heated are coconut oil, and lard/tallow from pasture-raised animals. Extra virgin olive oil and avocado oil are great to use when they are not cooked.
Fermented foods
You aren't just what you eat, you are what you digest. This means that your digestive system is an important focus, most of us have issues in our modern world due to the prevalent use of antibiotics in both ourselves and in the animal foods that we eat. Our overly processed foods also damage the intestinal lining and cause inflammation. This means that we aren't absorbing the nutrient from our foods that we should…and lack of nutrients can signal the body that we aren't in a place to reproduce.
Fermented foods not only break down foods causing them to be easier to digest, but they also supply us with plenty of probiotics and enzymes that support gut health. Naturally fermented foods like raw sauerkraut, traditionally fermented pickles, kombucha, and kefir are easy to make at home and inexpensive to boot. Many stores now carry many traditionally fermented options as well.
The better you digest your food, the better you can absorb it! If you deal with heartburn, chronic indigestion, or some type of irritable bowel, you may want to consult with a holistic practitioner so that you can get the full benefit from the foods you eat.
Avocados
Packed with folate and other B Vitamins, avocados are a great addition to any diet, but especially when you want to get pregnant! They contain plenty of "good" fats that assist in hormone production and they may assist in reducing inflammation in the body (often a concern with PCOS and endometriosis). One 2012 study even found that eating avocados increased the chances of a successful IVF.
They are also high in fiber which helps regulate blood sugar levels and aids in the removal of toxins and hormones via the bowel and contains plenty of other beneficial nutrients like Vitamin B6, potassium, and enzymes.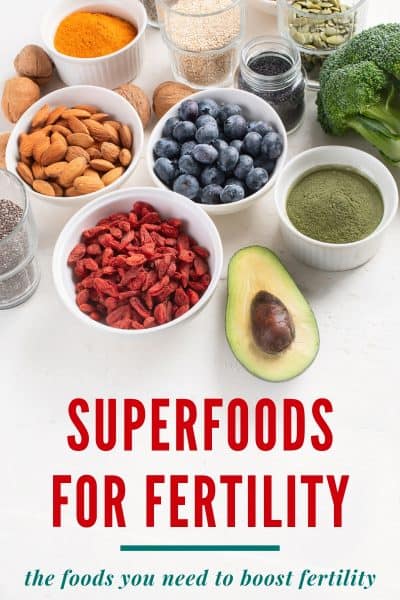 Maca
One of the most talked about and recommended fertility superfoods, maca is basically a root vegetable. It grows in the Peruvian Andes Mountains in an intense environment in poor soil with extreme temperatures and weather conditions. There is this idea that this hardy, resilient plant can be used to transfer those same properties into a person when they consume it. It does have a decent nutrient profile, but it is not all that different from other vegetables or root vegetables you can consume. There are claims that there is this phytoestrogenic property to Maca that can help to enhance estrogen when it is low. Then there are other constituents of Maca that are thought to reduce estrogens when they are in excess.
Maca is an adaptogenic herb, and this means that it regulates how the communication happens from the hypothalamus to the pituitary gland and thereby regulates the pituitary glands messaging to the other endocrine organs. So it balances out what kinds of hormones the body is producing and when.
Some of the primary studies that have been done on the benefits of Maca are really demonstrated to be effective for male fertility, enhancing sperm motility, enhancing male libido, strength, and endurance as it helps to raise androgrens in the body. However, it may be particularly problematic in women who are struggling with infertility as a result of something like PCOS, which has an androgen-dominant component.
Before using maca to help with fertility or hormone issues, make sure to read exactly WHO should take maca as it may make hormonal issues worse if you don't need it.
Royal Jelly
Produced by the worker bees, this substance is fed to the queen while she is still a larva. This is what causes her to be able to reproduce. It is thought that royal jelly enhances libido, helps balance hormones, and increases the quality of the egg, It is a good source of B vitamins, protein, small amounts of amino acids and fatty acids, as well trace minerals, some enzymes, and trace amounts of vitamin C.
While I think that royal jelly does have its benefits, do be aware that it takes bees a lot of work to produce and each hive has only a small amount for the queen, so it's not the most sustainable supplement.
*do not use if you are allergic to bees or honey
Seeds
Chia, flax, and hemp seeds are a great addition to any fertility diet! They are not only a good source of protein, but contain the plant-based Omega 3 fats so important for hormone balance and circulation (that circulation brings nutrients via the blood to reproductive organs). Especially in those that refuse to eat fish or seafood, a couple of tablespoons of these seeds a few times per week is a great goal. (I put them in my smoothies)
Pumpkin seeds are high in zinc and do great things for sperm and egg health.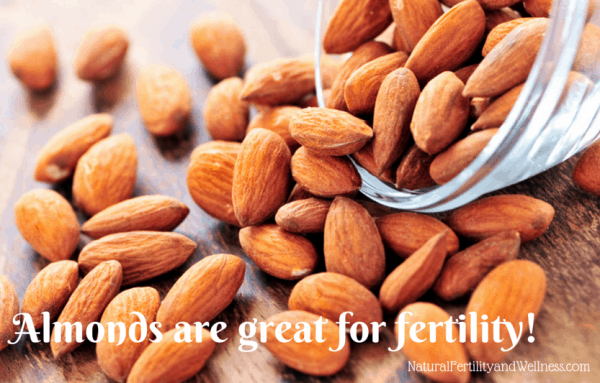 Nuts
When properly prepared, nuts like walnut and almonds are tiny little nutrient powerhouses for fertility! They are a great source of protein, fiber, minerals like zinc, and even essential fatty acids. They are also a great way to get Vitamin E into your diet, in particular, the Vitamin E content in almonds is almost 90% tocopherols. (this word actually means "to bring forth a child" in Greek)
In order to get the most nutrients from nuts, it's important to eat them raw as many of the nutrients are damaged during roasting. The best way to eat them is to soak them in salt water for 12 hours and then dehydrate. It takes time, but you'll find that they taste better than raw nuts and yet still contain all of their beneficial nutrients.
Let's get you started on a fertility diet!
Pop your name and email into the form below and I'll send you my Fertility Foods Checklist. I found it super helpful when I started to change my diet – it lets me see how I'm doing over the course of a week. I also know how tricky it can be to change your diet, but if I can do it – so can you! In order to give you a bit more support, I'll also send you some helpful tips about food and fertility.