I don't know about you, but where I live – it's been hot. Like record-setting hot.
And lemonade tastes so cool and refreshing on days like this.
It always brings me back to the super hot August days when I would spend a week at the youth fair showing my horse. We'd spend all day in long pants and boots and had to wear long sleeves during our classes – with a cowboy hat or helmet to boot! It was dreadful hot most years and I loved to head over to the carnival and grab a lemonade whenever I could.
Then I grew up and realized how bad sugar was for me (because I ate a lot of it….). I began to cut out most sugar from my diet and saw very positive changes in my overall health and in my fertility, but I still miss nostalgic drinks like lemonade, no matter how long it's been since I've had one.
Making my own was definitely better as I could cut back on the sugar, but it was still a bit much for me. So I began to double ferment my water kefir with fresh lemon juice and it definitely fulfills that craving!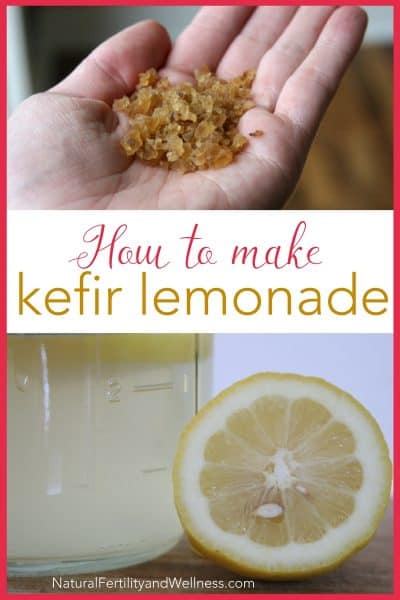 So instead of making lemonade full of sugar, try this version. The fact that it contains probiotics makes it even better!
 Kefir Lemonade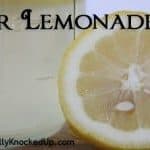 Print Recipe
Kefir Lemonade
Ingredients
3 1/2 

cups

warm water

about 80 degrees or so

1/4

cup

sugar

water kefir grains

about 2-4 tablespoons

2

teaspoons

sugar

1

lemon
Instructions
Dissolve 1/4 cup sugar in the water and add the kefir grains. I like to use a one-quart mason jar for making water kefir.

Cover with a thin towel or cloth and rubberband. Let sit for 24 - 48 hours or until it bubbles when you move it.

Strain out the kefir grains.

Depending on how much lemon flavor you like (I like a lot) squeeze in fresh lemon juice from a whole lemon and the additional 2 teaspoons sugar. Allow it to sit out for another 24-48 hours, either lightly covered (for non-fizzy) or use a two-part canning lid (for fizzy).

Chill completely and serve.
Notes
If you have city/tap water make sure to boil and cool or let it set out for 12 hours first to get rid of the chlorine.
Also, note that nutritional values will be different than stated as the kefir culture will consume the sugar as it ferments.
If you love this recipe, I'd also recommend trying the Probiotic Peaches and Cream Soda as well as the Grape Kefir Soda!
*For more amazing drink recipes, follow our whole foods board on Pinterest.