A few weeks ago I grew my own mushrooms for this recipe. Amazed at the process and how quickly they grew, I have decided that yes….homegrown foods are always better. It's always a wonderful thing when you can pick your food just moments before cooking! I've had NEVER liked mushrooms and I think it's because I've always had them out of a can – this healthy mushroom pasta is changing my mind.
Below are the mushrooms I grew! I knew they grew fast, but I was still amazed. It seemed like every time I looked at them they were bigger!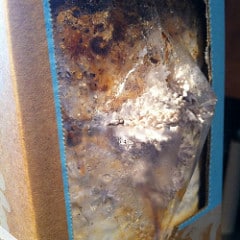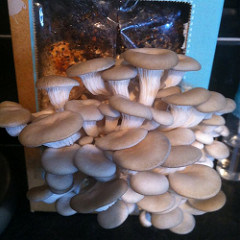 Mushrooms are a good source of B vitamins (read here why vitamin B is so pivotal for fertility) as well as many minerals like selenium, copper, and potassium. Useful in many types of dishes, mushrooms are quite a versatile food. This creamy pasta dish combines both the flavors of a tomato sauce and a white sauce, we were pleasantly surprised at the wonderful flavor.
I've never been a huge fan of mushrooms, but these may have just won me over a bit – at least in using fresh mushrooms!
(And yes – there are mushrooms under that pasta! They just fell underneath a bit.)
This creamy mushroom pasta is best served with a side salad and some homemade Italian dressing.
I've since added a few handfuls of fresh spinach into the sauce for an extra boost of nutrition and pop of color.
VARIATIONS – use brown rice pasta for a gluten-free version and zucchini noodles for a keto version.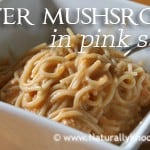 Print Recipe
Healthy Mushroom Pasta
Recipe from Back to the Roots.
Ingredients
1

pound

spaghetti

1

cup

onion

minced

1/4

cup

butter

1

clove

garlic

minced

3

cups

milk

2

Tbsp

nutritional yeast

1/4

cup

tomato paste

5

ounces

oyster mushrooms

1/4

bunch

parsley

1

tsp

sea salt

to taste

pepper

to taste
Instructions
Boil pasta according to package directions.

While the pasta cooks, saute onion in 2 Tbsp butter or oil with 1 tsp of salt until soft.

Add in minced garlic and saute for an additional 2 minutes.

In a blender, pour in the hot onion and garlic, milk, nutritional yeast, and tomato paste. Blend until fully combined. You could also use a stick blender for this!

Heat mixture over medium low heat until hot.

While sauce is heating, saute the mushrooms in the other 2 Tbsp butter or oil with a touch of salt, until browned.

Toss the pasta with the sauce and mushrooms, garnish with parsley.
Notes
Variations:
Gluten-free - use brown rice or corn pasta
Keto/grain-free - use zucchini noodles
This post was sponsored in part by Back to the Roots, a company striving to create unique, enjoyable, and sustainable products for their customers. Each box of mushrooms is grown in recycled coffee grounds – they may use almost 1 million pounds of grounds this year!