This baked trout with lemon, garlic, and onion is an easy dish jam-packed with nutrients and perfect for the grill or oven.
Fishy dishes
When it comes to fish, my family has a pretty broad palate. We enjoy salmon, tilapia, flounder, and tuna, but our most recent love is trout. Though none of us fish, we're kept in a good supply of fresh trout by a local fisherman. While I appreciate the ease that comes with store-bought fish, I love the unprocessed beauty and simplicity of fresh trout. It comes to be scaled and gutted, and that's pretty much it! Well, he is kind enough to chop the head off for me!
You might think it's rather hard to cook a whole fish, but it's surprisingly simple. Just stuff it, wrap it in foil, and throw it in the oven or on the grill! While I'm sure there are many delicious ingredients to stuff trout with, I like to keep it simple. Just some diced onion, minced garlic, salt, pepper, and a lemon slice. These flavors pair perfectly with the soft sweetness of the trout. Even though trout have about 100 tiny bones, they come out quite easily after being cooked. Just grab the spine and pull up gently – the bones will follow, leaving your fish bone-free and delicious (not that it isn't delicious with the bones intact).
Nutrients in trout
Fish protein contains all the essential amino acids, and the ones they contain the most of are lysine (helps the body absorb calcium), leucine, and glutamic and aspartic acid. There are quite a few different trout species in the United States – lake, brook, rainbow, and bull – but they all boast high counts of necessary vitamins and minerals: niacin, vitamin B6 & 12, phosphorus, and selenium. Trout is an oily fish, which doesn't mean it's greasy, but rather that it's full of beneficial polyunsaturated omega 3 & 6 fatty acids.
Though wild-caught trout is a wonderful choice for all it's amazing health benefits, you need to be careful where your source it from. Since trout are usually caught in rivers and lakes, they are quite susceptible to pollutants from agricultural run-off.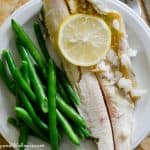 Print Recipe
Baked Trout with Lemon, Garlic, and Onion
Getting dinner on the table quickly is easy with this baked trout dish.
Ingredients
2

fillets

trout

approx 8 ounces each

1

lemon

sliced

2

cloves

garlic

minced

1/2

yellow onion

diced or minced

salt and pepper

to taste
Instructions
Preheat oven to 350.

Cut one square of tin foil for each fish.

Stuff fish with the onions and garlic. Place a lemon slice on top and sprinkle with salt and pepper.

Wrap with foil and bake for 20-30 minutes - depending on the size of the fish - or until flakey.
Notes
Use a shallow casserole dish instead of tin foil if you choose not to use foil!