Perfectly baked and stuffed with all your favorite toppings, these Loaded Hasselback Potatoes are sure to become a favorite!
A family favorite.
Baked potatoes are a family staple at my house. They're on my menu at least once a week! And that's not because they're super cheap (they are), but my family truly loves them.
Whether eaten plain with butter and/or sour cream, topped with sloppy joe meat, or loaded with all the "normal" fixings, they're a great and easy meal.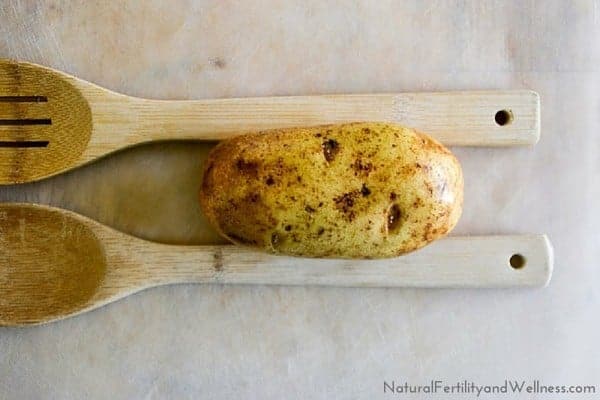 There's always something to learn.
When my older children were toddlers, my husband and I moved our little family over to Far East Russia for a while. During our time there I thought I'd eaten potatoes in just about every way imaginable, but hasselback was not one of them!
I always looked at hasselback potatoes as a fancy meal you'd only see on the Food Network or on the Pioneer Woman's blog. Cutting all those little slivers into your potatoes would be way too much work for me.
But let me tell you, my friends, I was wrong. These Loaded Hasselback Potatoes might be a little more work than a regular baked potato, but biting into that soft fluffy tater with pockets of butter and melted cheese is worth the extra effort!
And they're really not that hard. I promise you. 😉
The basics of making hasselback potatoes
If you're still thinking that hasselback potatoes are too much for you to handle, just look at it this way. They're basically a pre-sliced and seasoned baked potato. Now, that doesn't sound too complicated, does it?
If you're not a very big white potato fan, or if you're on a paleo diet, these can be made just as easily with sweet potatoes. I don't tolerate white potatoes well at all, so I usually make up a few "regulars" for my family and stick a sweet potato on the pan for myself.
If you make sure the potatoes are about the same size and slice them evenly, they will all bake up in the same amount of time. Easy peasy!
In fact, the hardest part of making them is slicing them just-so. But taking a tip from the Pioneer Woman, I recommend placing your potatoes between two wooden spoons to slice them. This ensures that you won't accidentally cut too far down on your potatoes, making them fall apart (though my kiddos assure me they enjoy them that way, too).
After slicing, top with melted butter, season with salt, and bake till they smell yummy! Then eat them as is, or load them with bacon, cheese, and whatever else your little heart desires (well, probably not chocolate… sigh). Stick them back in the oven again for a few minutes and you're good to go!
Voila! Les pommes de terre de hasselback! 😉
Now that I have the basics conquered, I've got all sorts of hasselback recipes floating around in my brain… But we'll save those for another time!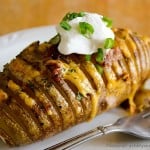 Print Recipe
Loaded Hasselback Potatoes
If you love baked potatoes, this will definitely kick it up a notch.
Ingredients
8

russet

all around the same size

1/4

cup

butter

melted

1/2

tsp

salt

1/2

cup

cheddar cheese

4-5

pieces

bacon

1/2

tsp

parsley

sour cream

optional for topping

chives

optional for topping
Instructions
Preheat oven to 450.

Wash potatoes.

Place potatoes one at a time between two wooden spoons. Slice the potatoes until the knife hits the spoon. Make the slices as even as possible (about 1/8 inch thick each).

Place potatoes on a cookie sheet and brush with melted butter, making sure it drizzles down in the potato crevices.

Sprinkle with salt and bake for 35 minutes, or until potatoes are fork-tender (baking time will depend on the size of your potatoes and how thick your slices are).

While potatoes are baking, fry the bacon. Set aside to cool, then crumble into delicious little bacon bits.

Remove potatoes from the oven and top with any leftover butter, as well as the shredded cheese, crumbled bacon, and parsley.

Return to oven for 5 minutes.

Serve with sour cream and freshly sliced chives.
Notes
You can also use sweet potatoes.