I'm not a huge fan of juice fasts, but I am a big fan of people getting in a lot of plant-based nutrition when trying to conceive. Especially those of us that have hormonal imbalances – sometimes we need an extra boost as we work to change our diets and lifestyle. If you work within certain parameters, juicing for fertility can be beneficial for our health and wellness.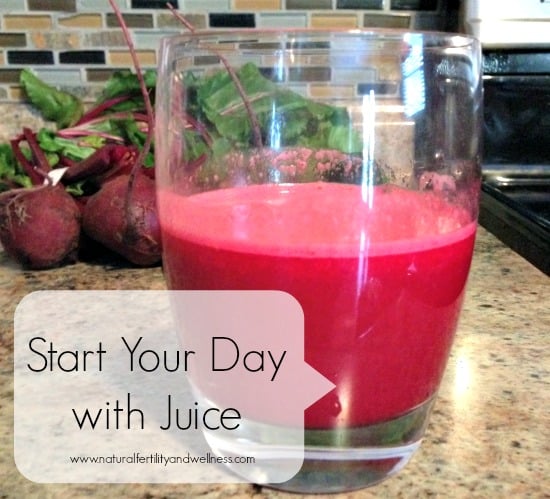 Benefits of juicing for fertility
You may have heard of all liquid diets (definitely not recommended for long-term health), or seen the likes of Dr. Oz or Joseph Mercola promoting the benefits of juicing. And there are many benefits to juicing, but I think juicing (like most things in life) should be done in moderation. At our house, we juice about once per week (sometimes less in the summer when we are eating a wider variety of fruits) and typically it is our morning meal. We use fruits and vegetables high in antioxidants with known cleansing properties.
One of the best things about juicing is that you can consume a large number of fruits and vegetables in a single glass. You get all the nutrients, vitamins, minerals, and enzymes that your body needs but you don't have to sit down and choke your way through a huge pile of kale. Juicing is a great way to mask the flavor (or texture!) of vegetables that you typically don't prefer.  Additionally, because the vegetables and fruits are raw, you will not be losing any micronutrients that you would through normal cooking processes.
Fresh produce is also an amazing source of antioxidants which are great for egg and sperm health.
Juicing in and of itself is no healthier than eating whole fruits and vegetables, in fact, you're actually missing out on some fiber. The benefit of juicing, however, is that most of us don't eat all of the fruits and veggies we really need – juicing can help us get that nutrition a bit easier. Many couples find that when moving to a fertility diet, it's hard to change ALL of their meals right away. Sometimes we need a slower, more gradual change in order to make new dietary habits.
And going slow is ok. You can use some juicing as you make the shift.
There are also instances where some proponents of juicing say that the removal of the fiber may help with absorption, especially in people with poor gut health, though these claims are not always backed by scientific evidence. If it works for you, great! To be honest, I think most people simply feel better getting these extra 4-5 servings of produce a day!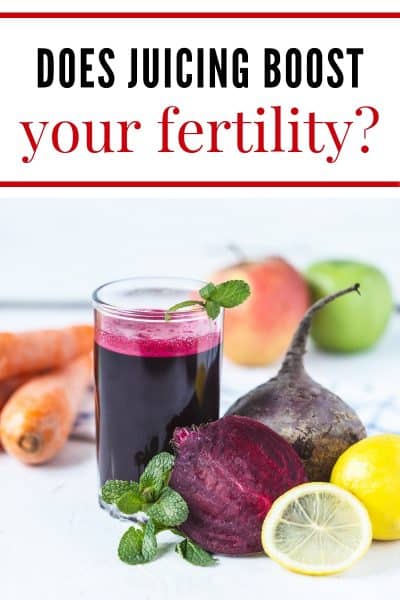 What to juice for your fertility
Basically, you can juice any fruit or vegetable. Those that are popular for cleansing and healing properties include dark leafy greens (particularly kale, spinach, and collard greens – though not all juicers can properly juice them), carrots, celery, parsley, cilantro, cabbage, apples, lemons, limes, ginger, cucumbers, beets, oranges, grapefruits, kiwi, red peppers…the possibilities are endless! Play around with different flavor combinations until you find your favorite. Most people recommend starting with flavors you enjoy and then venturing out to other produce that you may not initially consider.
Keep in mind that juicing can also be high in natural fruit sugars! Plus you're missing the fiber so there isn't a lot to slow down the spike in blood glucose levels. (Alternatively, you can usually use many of the same juice recipes and blend them in a high-powered blender and drink as a smoothie.)
Is celery juice healthy?
One of the newest fads, thanks to Medical Medium, is the juicing of an entire bunch of celery each morning and drinking it on an empty stomach. It's basically said to cure everything that ails you…but does it?
The fact of the matter is that celery juice isn't really that much healthier or better for you than other produce. If you'd love to learn more and dig into the science – click here. Personally, I think a lot of people feel better in the short-term simply because they are getting in an extra 4-ish servings of veggies every day. In the long-term, there are people reporting that the levels of oxalates in the celery have been causing issues with their liver and kidneys. The source is also of concern as it comes from a psychic and not a nutritional or medical professional.
If it makes a person feel better, great. I just wouldn't recommend it long-term – everything in moderation.
Recommendations for how to juice:
Stick to organic produce to avoid herbicide and pesticide exposure.
Wash and scrub all produce (you don't need to add beetle juice 🙂 )
Try to stick to 75% veggies and 25% fruits to make sure you're not just drinking a natural sugar bomb.
Use juicing to supplement a healthy diet…not to make up for eating junk food!
You're going to need a quality juicer, or a high-powered blender and a way to strain the juice from the pulp, like a nut-milk bag or a cheesecloth-lined strainer. Then simply add your fruits and vegetables to the juicer or blender and process. If using a juicer, your juice is ready! If using a blender, strain out the pulp and you are ready to go!
It is best to drink your juice immediately to prevent oxidation. However, if you make a lot of juice and you just can't drink it all at once, you can store it in an airtight mason jar in the refrigerator until you are able to consume it.
Juice recipes
This first juice is one of my favorites. It is simple, fast, and requires very minimal preparation for the juicer.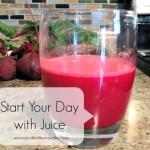 Print Recipe
ABC Juice
Ingredients
1

apple

A

2

small beets

B

2

medium-sized carrots

C

1/2

inch

piece of ginger

optional
Instructions
Wash all vegetables and fruit.

Follow your juicer's instructions and drink immediately.
Notes
Nutritional information will be different than stated as it is based on whole fruit.
This second recipe is for the more advanced, as it does have kale in it, but also some ginger to make it more palatable and give it a necessary kick.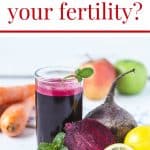 Print Recipe
Green Goddess
A great way to get in extra veggies.
Ingredients
5

stalks

kale

3

stalks

celery

1

cucumber

medium

1/2

lemon

1/2

inch

ginger

1

green apple

optional
Instructions
Chop all produce and juice according to your appliance. Consume immediately.
Notes
Nutrition calculations are based on whole fruits/veggies so they may be different for the juice.
Note from Donielle – If you're in the market for a juicer, I've had a Jack LaLane juicer for years and it's done the job, but it's just "ok". The Breville (available on Amazon) comes highly recommended to me and the Hurom Juicer (available on Amazon) is one of the only ones that will juice leaves like kale.