A classic American breakfast dish, scrambled eggs are also a great source of nutrients and provide a wide assortment of essential vitamins. They are also a great source of inexpensive protein and a great way to start your day. I'll show you my super easy process on how to make scrambled eggs with tips for different variations.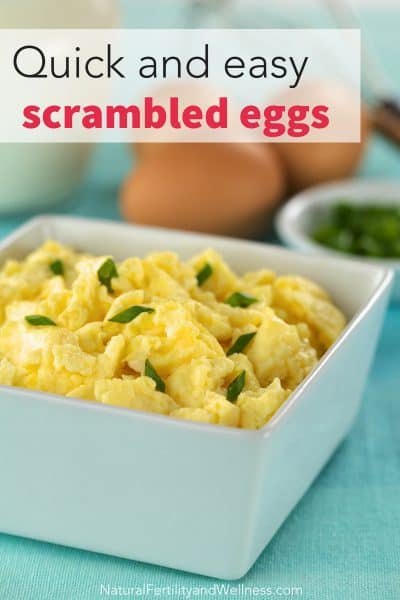 If you can find eggs from pastured chickens, the taste and texture not only can't be beat, but the nutritional value is better as well, offering more omega 3 fats and vitamin D. For realz…if you think you don't like scrambled eggs, make sure you try them with farm fresh eggs before you write them off!
Eggs can get kind of boring if you prepare them with nothing more than a bit of salt. Since they easily take on so much of the flavor of what you pair it with – there really is no reason to grow tired of them! Our basic recipe is tasty, has plenty of flavor, and  is quick to whip up – taking a mere few minutes at the stove.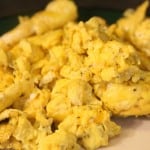 Print Recipe
Scrambled Eggs
Quick and easy scrambled eggs with tips for best results.
Ingredients
4

eggs

preferably pastured

3

Tbsp

milk

or broth/water

½

tsp

basil

1/4

tsp

oregano

1/2

tsp

dried onion

¼

tsp

salt

1/4

tsp

pepper

2

oz

cheddar cheese

shredded or diced

1

Tbsp

butter

for greasing pan

2

egg yolks

optional
Instructions
Crack the eggs into a medium-sized bowl, add 3 Tbsp liquid and whisk or beat with a fork until well blended.

Add seasonings and cheese.

Melt butter in a cast iron skillet over medium-low heat.

Pour in the egg mixture and let sit until it starts to firm underneath, but not brown. Slowly pull solid egg mixture to the middle of the pan as it cooks and stir.
Tips for making scrambled eggs
For fluffy eggs –
use water (or broth)
preheat pan
medium heat
stir in large sweeping motions occasionally while cooking
For creamy eggs –
use milk or cream
preheat pan just enough to begin to melt the butter
cook over medium-low heat
stir in small rapid circles almost continuously while cooking
Use good quality eggs
Not much else will matter if you're using cheap eggs! The taste and texture of good eggs is hard to beat.
Grease the pan
I prefer to use a cast iron skillet with either butter or bacon grease. Get the pan warm first over medium heat and then add a teaspoon of fat, allowing to melt completely. (If your cast iron pan is newer or not well seasoned, use more fat or the eggs will stick.)
Beat them well
Crack your eggs into a bowl and beat them together first. You don't have to go crazy, but you do want them nice and combined.
Turn down the heat
Too often we want to speed up the process and end up with overly dry eggs. Once you put them in the pan, turn the heat down to medium-low.
Decide when they are done
Some people love soft-cooked eggs (I'm definitely not one of them!) so this part may take a few tries to get it exactly right for your preferences. Remember though that eggs will continue to cook slightly after being removed from the heat.
Vary the add-ins
No need to get bored eating eggs, there are a million different ways to flavor your scrambled eggs! Some other favorites of mine:
Cook with a simple salt and pepper seasoning and sprinkle with shredded parmesan cheese and fresh chives
Add sauteed onions and peppers