Nothing beats a good batch of homemade caramel corn. Sweet and salty all at once, this version uses sugars with minimal processing, leaving it with a slighty mellow yet rich flavor from the real maple syrup.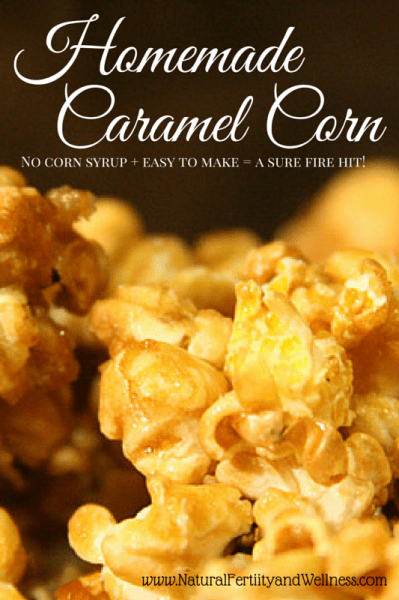 I got this basic recipe from Kelly the Kitchen Kop and changed it just slightly for my own tastes. I love to make this when I get a sweet tooth and I feel much better about it knowing I use only real, whole ingredients and there's no high fructose corn syrup in it! It's my new favorite Saturday night snack.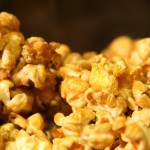 Print Recipe
Homemade Caramel Corn
Ingredients
1/4

cup

organic popping corn

2

Tbsp

butter or coconut oil

for popping

you'll want about 6 cups of popped corn

The caramel:

1/4

cup

butter

1/2

cup

whole cane sugar

1/4

cup

real maple syrup

1/2

tsp

vanilla

1/4

tsp

sea salt

optional – chopped nuts
Instructions
Preheat oven to 300 degrees.

Mix topping ingredients together in saucepan over medium heat while corn is popping (or for about 2 minutes).

Then mix the topping and popcorn (and nuts if using) together well in a large bowl, taking out any unpopped kernels you find.

Place in a 300 degree oven for about 15 minutes.

Let cool slightly and break apart. Enjoy!
I also love to take a big bowl of caramel corn to family get-togethers and it's a great gift item as well.
One of my favorite add-in's is a big spoonful of peanut butter (approximately 2-3 tablespoons), though you can use any nut or seed butter you have on hand.