As much of a summer girl that I am, I have to admit…I just love fall too. One of the biggest reasons…fall begins soup season for me! Every year I add more and more recipes to my repertoire and this cabbage and meatball soup ranks up in the top ten.
Don't get me wrong, we have a few bowls of soup in the summer, but in the cooler months of the year, I would say it is somewhere on the menu once a day. From veggie pureed soups to hearty dinner soups like this recipe.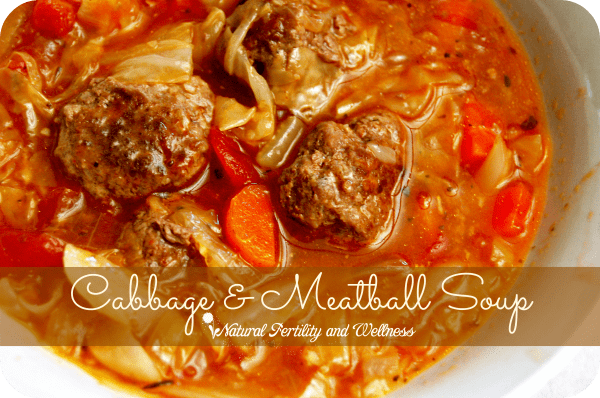 I am not a huge fan of traditional bone broth on its own in a mug…*gasp* from the Weston Price crowd…I know. I will occasionally have some with sea salt in a mug if I'm feeling ill, but for the most part, my biggest way of getting this superfood in my diet is through delicious soups.
If you are not familiar with the benefits of getting healing bone broths into your diet, I would completely stop reading this right now and read the article Bone Broth is Beautiful– it was one of the first that I read in the "traditional" foodie world, and one of the first changes I made that totally changed the healing of my own gut lining. I am convinced it is a huge part of my gut healing, which in turn has healed so many other aspects of my physical health.
It's simple to make bone broth, either chicken broth or beef broth. I have to admit I am a crockpot girl completely. Throw the bones in with some water – easy peasy. Let me know if you have further questions – soups and broths are one of my favorite topics!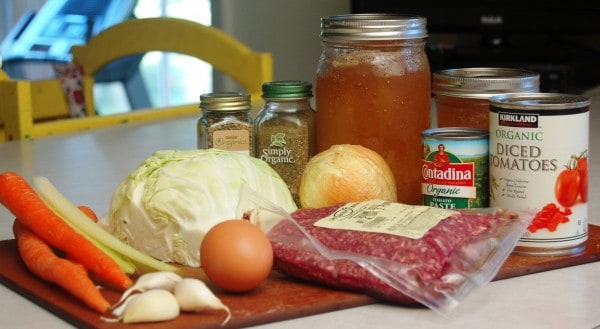 Print Recipe
Cabbage Meatball Soup
Nutritious and delicious.
Ingredients
1

lb

ground beef

or ground pork

1

egg

1

tsp

all-purpose seasoning

1

tsp

sea salt

¼

cup

butter

coconut oil, lard, tallow

1

onion

medium, chopped

2

carrots

medium, chopped

2

stalks

celery

chopped

½

head

cabbage

sliced thin

3

cloves

garlic

minced

1 ½

Tbsp

tomato paste

1

15oz can diced tomatoes

1 ½

quarts

beef stock

2

tsp

Italian seasoning

sea salt

to taste

pepper

to taste
Instructions
In a small mixing bowl combine the beef, egg, all-purpose season, and 1 tsp salt.

Form small mini meatballs and brown off in a large skillet or fry pan with some butter or coconut oil. The goal is not to cook them through – just get a nice brown crust on the outside and they will cook the rest of the way in the soup.

While the meatballs are cooking, sauté the onion, carrot, celery, and cabbage in a large soup pot with about ¼ cup butter for about 10 to 15 minutes. Do this with a few pinches of sea salt over medium to medium high heat and you will bring out the natural sweetness of all the veggies – this really boosts the flavor of the whole soup.

Add the garlic and tomato paste to the veggies, and cook for a minute.

Add the diced tomatoes, stock, seasoning, and browned meatballs to the soup pot and bring to a boil.

Reduce to a low simmer for 15 -20 minutes.
Tips:
Absolutely prep the night before if you wish! Cut all the veggies and put them in a bag so all you have to do is dump them in the pot when you get home from work! Same with the meatballs – form them the night before and you can brown them off the evening of. It really should only take about 20-30 minutes from there.
Freezes up great! Double batch and save the rest for a crazy week or when you want to bless someone with a meal!
Be sure to re-heat your soup over the stove top so you don't ruin all the nutrients in your bone broth from a microwave
Bring leftovers in a thermos to work or school!