This past year we have moved away from gluten quite a bit. Mostly because my husband has some wheat and gluten sensitivities, but also due to the fact that wheat is now so hybridized and changed from what it was even 50 years ago.  And while we do enjoy spelt every once in awhile, we try to stick to gluten free most days of the week. So when we started missing our once a week homemade pizza night, I did some digging around and found a crust I was able to modify to our liking!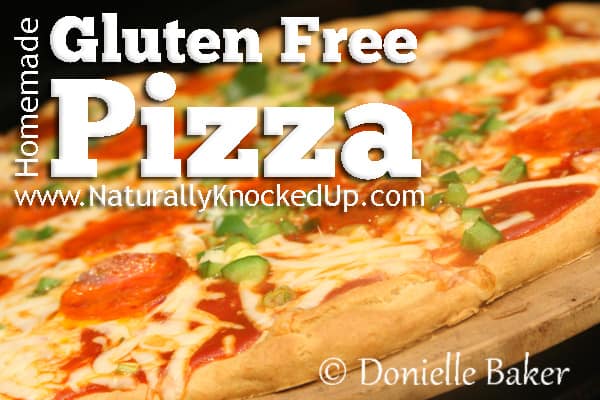 Here is one I made awhile back with some rarely used pepperoni. I don't care for consuming a lot of pork products, but sometimes I need to break my 'food rules' in order to bless my husband. My favorite toppings right now are onion, green pepper, and sausage!
Print Recipe
Gluten Free Pizza
Ingredients
3/4

cup

tapioca flour

1/2

cup

white or brown rice flour

2/3

cup

sorghum flour

1

tsp

xanthum gum

1

tsp

fine sea salt

1/2

cup

milk

1/4

cup

water

2 1/4

tsp

yeast

2

tsp

sugar

2

eggs

slightly beaten

2

Tbsp

olive oil or melted butter

personally I've been liking butter lately
Instructions
Preheat oven to 400 degrees.

Mix milk, water (I use HOT water so I don't have to warm the milk/water combo for the yeast) sugar and yeast together and let proof while mixing the rest of the ingredients.

Mix the 3 flours, xanthum gum, and salt together.

Stir in the milk/yeast mixture, oil, and egg into the dry ingredients and beat together until smooth.(This will not be your typical pizza dough, you will not be able to knead it by hand. It should be somewhat like a really thick cake batter.)

Oil or butter a pan liberally as this crust can have a tendency to stick!

Use wet fingers or a wet spoon to spread the dough out into the pan.

Cover with a greased piece of waxed paper and let sit for about 20 minutes, allowing it to rise. (if you don't have time to let it rise first, it's not the end of the world)

Bake for 10 minutes.

Pull out the crust and top with your favorite pizza sauce and toppings.

Bake for another 10 minutes.

Let cool for a couple minutes, then enjoy!
Notes
If you like a crunchier crust, preheat the oven and pan (I like to use stoneware) before putting the dough on the pan, also forego the rise time and place it right in the oven.