Summer is the season for simple foods. With the heat turning up, I don't want to spend a lot of time in the kitchen in front of a stove. Adding this simple to make healthy fruit salad makes any meal better!
In fact, my usual summer menu looks a little bit like this:
Breakfast: smoothies
Lunch: salad
Dinner: homemade ice cream (healthy, of course!)
Not much stress involved, and full of fresh fruit and veggie goodness!
With fruits and veggies plentiful during the summer months, sticking to my menu is pretty easy. And in keeping with my easy menu, I like to keep my recipes as simple as possible.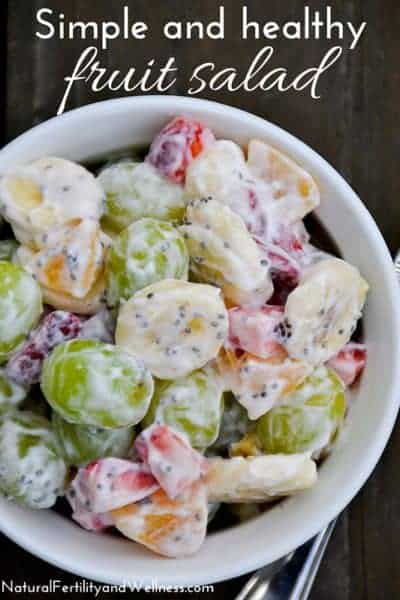 This simple and healthy fruit salad with yogurt and chia hits the nail on the head.
Don't be fooled into thinking that simple means lacking in flavor, though. This little salad is bursting with fresh fruit flavor, amplified by the yogurt. And for an added boost in nutrition, I like to sprinkle in chia seeds.
Chia seeds have become a popular superfood over the past few years due to their high content of vitamins (A, B, E, and D) and minerals (calcium, potassium, magnesium, sulphur, iron, iodine, manganese, niacin, zinc, thiamine). They are also a wonderful source of protein, antioxidants, and omega 3 ALA (Alpha Linolenic Acid), a healthy fat that protects the heart by lowering blood pressure, bad cholesterol, and inflammation. All that packed into a tiny little seed!
Adding in yogurt not only gives this fruit salad a creamy delicious texture and taste, it also provides a probiotic quality to support digestion, boost your immune system, and reduce bad cholesterol. Yogurt is high in minerals potassium and magnesium, too, and in vitamins B2, B12, D, and E.
As for the fruit, I usually just toss in whatever I have on hand. Sticking with the simple theme, I usually don't put more than four fruits in my salads at a time. For this version, I used oranges, bananas, strawberries, and grapes. It also tastes great with melons and other berries, too.
I usually shy away from apples in my fruit salads, to keep the fruity texture uniform. But if you like to spice things up with a crisp and crunchy apple, be my guest! The sky is really the limit when it comes to a fruit salad!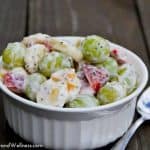 Print Recipe
Simple Fruit Salad with Yogurt and Chia
A quick and healthy fruit salad.
Ingredients
1

orange

1

large banana

6-8

strawberries

2

cup

seedless grapes

green or red

1/3

cup

plain yogurt

use coconut yogurt for dairy-free version

1

tbsp

chia seeds
Instructions
Wash and/or peel fruits.

Slice into roughly uniform sizes (I don't usually slice the grapes, but they can easily be sliced in half in preferred) and place in a large bowl.

Gently stir in yogurt until fruit is coated.

Sprinkle with chia seeds and stir in.

Store leftovers in the fridge.