The first time I made soup with a butternut squash, my husband took one bite and pushed his bowl away. I, however, at least ate mine. Though it wasn't that good (shhhh…I told him it tasted fine and to 'just eat it'!)
I couldn't let it go though. I knew it was supposed to taste good, and I wanted to really like it. And after a few variations, I finally hit the nail on the head! Even my husband liked the taste, though in his words "It needs something. Something to chew", and proceeded to add broccoli to his. So obviously he isn't big on blended soups!
I'm also excited to have finally gotten the recipe just perfect right as Wardeh is hosting the soup portion of our Whole Foods for the Holidays progressive dinner!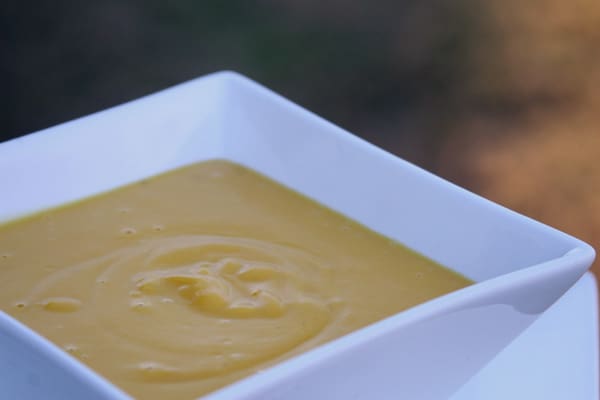 This creamy soup is flavorful without overpowering any dish you serve it with. You can also use an immersion blender if you prefer a chunkier soup, or add in more broth if you like it thinner.
(also – it does taste great with broccoli in it!)

Recipe: Butternut Squash Soup
Recipe type:
Soups and Stews
Ingredients
2 Tbsp butter
1 small onion
2 medium potatoes
2 carrots
1 medium butternut squash, peeled, seeded, and diced
8 oz cream cheese
4 cups chicken broth
salt and pepper to taste
Instructions
Melt the butter in a large saucepan and saute onions until soft.
Add potatoes, carrots, squash, and 3.5 cups broth, simmer for about 30 minutes or until all vegetables are soft.
Place half of the vegetable mixture and half of the cream cheese into a blender and blend until smooth.
Use the remaining broth if you need it for ease in blending.
Finish with the other half of the soup mixture and the rest of the cream cheese.
Salt and pepper to taste.
I'll be linking this recipe up at GNOWFGLINS today in the first installment of our Progressive Dinner! If you have a great soup recipe to share, join us and link up as well.