Complementing many breakfast dishes, a good breakfast sausage recipe is a balance of flavors, one not overpowering the other. Healthy sausage is tough to find in the stores though! Many times it's full of different fillers, 'flavors', and preservatives – all things I try to avoid when eating for fertility. Beyond those aspects, we have issues with the meat itself as we personally choose to eat mostly grass-fed pork and beef or the venison my husband gets during hunting season.
Most of the grocery stores I frequent don't have anything that lines up with our dietary ideals. So what's a gal to do? Make your own of course!
Homemade breakfast sausage is the best!
It's simple to mix up using ingredients you probably already have in your kitchen. You can also mix it up the night before and let it sit overnight, in a sealed container in the fridge. (actually, it tastes even better this way!)
While you're at it, go ahead and double the recipe and place uncooked frozen patties in the freezer to make it even easier the next time you want to make them.
Use this sausage for making patties (we love them on an English muffin with a fried egg) or cook it as ground for your "breakfast bowls" (hashbrowns, scrambled eggs, onions, peppers, and sausage) or breakfast burritos.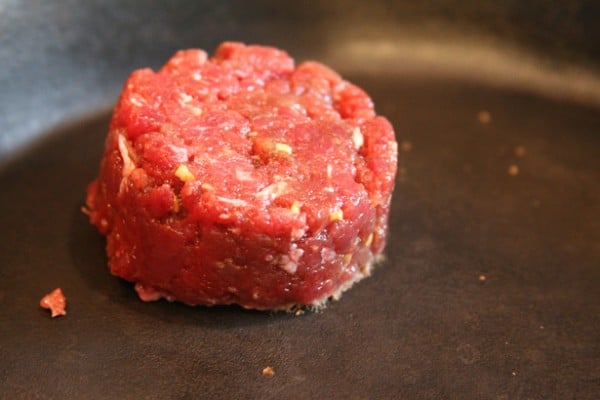 We've used this not only for breakfast but also cooked as ground to add into our spaghetti sauce for a bit of something different and used leftovers to top our pizzas!
A big thanks to Michele at Frugal Granola for being the inspiration behind this recipe.
Print Recipe
Homemade Breakfast Sausage
Make ahead and stick them in the freezer for easy breakfasts!
Ingredients
1

lb

ground beef

venison, or pork

1

egg

lightly beaten

1/2

tsp

onion powder

1/2

tsp

sea salt

available on Amazon

1/2

tsp

dried sage

1/4

tsp

cinnamon

1/2

tsp

powdered ginger

1/2

tsp

garlic powder

1/4

tsp

black pepper

1/2

tsp

maple syrup

optional
Instructions
Preheat pan or griddle over medium heat. Lightly beat the egg in a large bowl.

Add in ground beef and combine.

Mix in seasonings.

Use a 1/4 cup measuring cup and press enough meat mixture in to fill it up. Place onto pan and press flat.

Let fry for 3-5 minutes on each side, then enjoy!