I was bitter.
I first realized it when the nurse called me back, saying, "You're here to see the doctor about your infertility, right?" My heart sank, and I snapped back at her, "I'm not infertile, we're just having a hard time getting pregnant."
I recognized the bitterness immediately. I was keenly aware that deep in my heart I loathed the words she'd spoken. I resented being labeled. I was angry that she didn't choose kinder, more understanding words, and I hated the fact that I had to be there at all.
That interaction with the nurse was just the start. As my husband and I began to open up about infertility, we heard so many hurtful, heartbreaking things. And it wasn't until years later that I realized that most of those words were spoken with the kindest of intentions.
"Please consider adoption, millions of children need a good home."
"Maybe you're not supposed to have children, you're just suppose to pour your life into other people's kids."
"Do you really think pursuing fertility treatments is 'trusting God' with your family and your future?"
"I have a friend who got pregnant the month after she miscarried."
"God knows best and His plan is for good and not for evil."
What were meant as helpful suggestions and encouraging words sounded more like judgmental statements, clichés, and platitudes. And goodness did I hate hearing those things. At my lowest point I stared back at my screaming self in the bathroom mirror and realized that my heart was just as hollow and cold as my childless womb.
Infertility is, unfortunately, not something I can control. But my actions, the way I react to (perceived) hurtful words, the words I say to my husband when it is evident that we are still not pregnant, and how I respond to my friends' baby announcements are completely within my control. I have this wonderfully challenging opportunity to be in control of how I respond to the circumstances that I cannot control.
We stand in need of grace.
About a year ago I realized how desperately I need grace. I need grace from my husband because he is most often the brunt of all my screaming and crying. I need grace from our parents because I often overlook their grief and frustration. I need grace from the friends from whom I have distanced myself in an attempt to protect my heart.
We need to demonstrate grace.
As much as I need grace from others, it is so clear to me that I must demonstrate grace to those around me. I tend to be quite sarcastic, but responding to questions with snark and sarcasm really doesn't help others see what an emotionally paralyzing journey infertility can be. Shutting down and shutting up doesn't invite friends and family to be supportive and encouraging of our journey. And harboring bitterness and anger towards those who mean well doesn't show them how their words can sometimes be more hurtful than helpful.
And yes, I need to show myself grace too. When fertility treatments result in weight gain and I don't recognize myself in the mirror: grace. When I feel like I can't face another day of wondering and waiting, so I end up staying in my jammies and watching Netflix: grace. When I refuse to answer the phone because I don't want to talk to anyone: grace.
Nurturing a Spirit of Grace:
Nurturing a spirit of grace in the midst of infertility is sometimes as challenging as the journey itself, but I've found that as I strive to offer grace to others and myself, healing comes in the most quiet and surprising ways.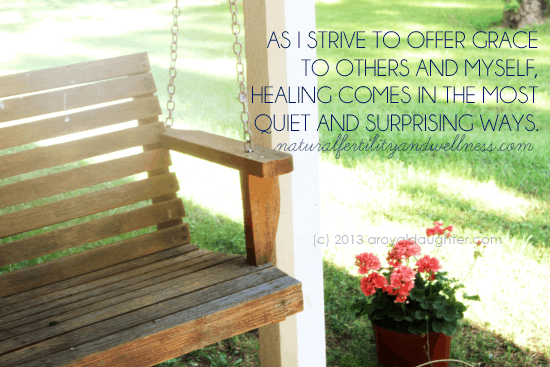 When I remember that my husband is as brokenhearted as I am, and needs comfort and encouragement just as much as I do, the temptation to cry and scream at him is easier to resist.
When I remember that our friends hurt for us and wish they knew what to say, it helps their words seem more like the genuine attempts at encouragement that they are.
When I remind myself that my value and worth is in no way tied to how much I weigh or what I look like, I realize it's a small price to pay for a chance to be a mommy.
As I continue to pursue a spirit of grace, the deeply rooted bitterness slowly fades way. Old wounds begin to heal, and this journey takes on new purpose.
Nurturing a spirit of grace is certainly a challenge. In what areas do you feel you need to nurture a spirit of grace?