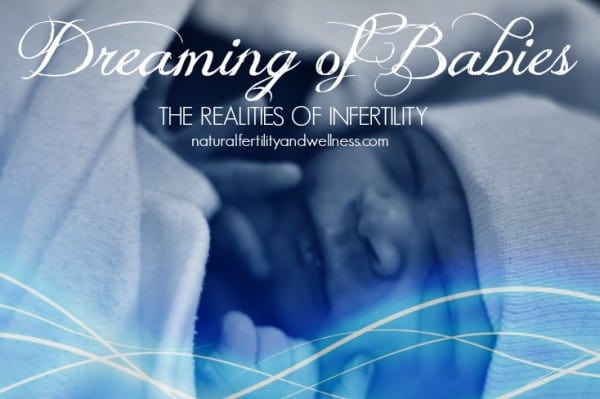 I was in the shower when I realized that I was having a baby. I didn't even know I was pregnant, but it was obvious that I was giving birth. I screamed for my husband to come take me to the ER. No one answered. I kept screaming for help until finally my mom showed up.

By then I had a teeny, tiny baby boy. He had dark hair and the same chin that all my brothers and I have, very defined with a little dimple in it. He was breathing but I knew he wouldn't be for long.

But instead of helping me get out to the van, my mom started gathering all these strange children together. Eight of them, to be exact. I stood there, holding this tiny little baby who was turning blue, and watching them all come down the stairs. I was crying and BEGGING Mom to just stick them in the van and she gave me this disgusted look and said, "Now, Tasha, we can't take them until we get them all dressed and buckled into their seats." I must have looked shocked because she added, "I can't believe how selfish you're being. What's the point of saving one baby if you're not going to take proper care of all the rest?"

I sat right down, rocked this itty bitty blue baby, and cried and cried.
The good news? My mother would never, ever, in a million years, be that horrible. The bad news? It was all a dream and I don't really have a baby boy with dark hair and my chin.
And to be honest, my first thought on waking up had nothing to do with how terrible my mother had been in this dream. It had everything to do with feeling sad and empty because it wasn't real and I didn't have a baby or the hope of one. 
I've had so many dreams over the years about babies. Sometimes I wake up crying. Sometimes I just lay there, trying so hard to fall back asleep and continue the dream. Sometimes they are horrible and involve me not being able to save a baby or accidentally hurting one. Sometimes they are lovely,  like the time I was finally adopting this beautiful Ethiopian boy.
For a long time it made me angry. After the dream wore off and I was done feeling empty or lost or fearful, I would get so mad at God. I wanted to shake my fist at Him. I can exert some control over my waking thoughts, but what in the world am I suppose to do with dreams? 
I've learned since then that dreaming about babies while dealing with infertility is completely normal. People have shared all kinds of dreams with me. Sometimes sweet (those few delusional minutes of rocking a baby that you think is yours) sometimes horrible (the ones where the baby dies or someone in your family does something out of character) and sometimes even funny (like the time I dreamed that Walmart started carrying babies at greatly reduced prices).
In dealing with these (often undesired) dreams, I've found three helpful responses:
1. Pray.
God's shoulders are big enough to carry any of the hurts that rush through our minds. He can handle our pain, our anger, our insecurities. So, when I wake up after a dream that leaves my heart heavy and empty– the best response is to talk to the only true source of comfort, Jesus.
2. Laugh.
Sometimes the best medicine is simply to laugh. I mean, seriously, can you imagine Wal-mart carrying babies at greatly reduced prices? (I must have been reading too much on adoption costs at that point!)
3. Share
Telling your spouse your dream can help tremendously.  It may also free him to share his own dreams with you. I've also been known to call up a friend, or my mother, the morning after a dream that keeps plaguing my mind, and sharing it with them. I've found that just talking about it– reminding my heart and mind that it was just a dream can be helpful.
What about you? Have you experienced any "infertility dreams"?