National Infertility Awareness Week is April 20-26, a week in which many of us in the infertility community commit to sharing our stories, spreading awareness, and bringing much-needed attention to the disease that affects an estimated seven million Americans.
But some who carry this burden – who walk this journey, do so silently, quietly, and mostly alone. Infertility is an isolating journey, and many choose to walk it alone. Their friends and family members are often left with unanswered questions, wondering what to say, how to help, and what it's like. And they wonder why? Why will my loved one not let me be a part of this journey?
Every journey is different, every heart shatters into unique pieces. I can only share from my own experience, but perhaps my own struggle will shed a glimmer of light onto the struggles that others face as they walk this lonely journey.
Why We Keep Quiet About Infertility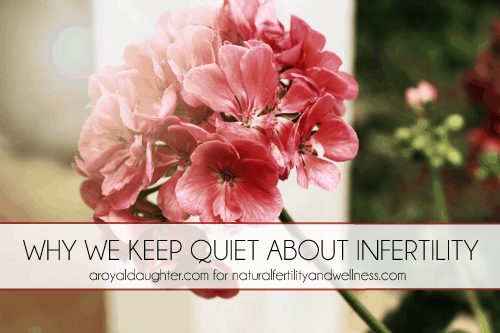 1. Making a baby is (usually) a very private experience
We are keenly aware that most couples are able to create new life together without an audience. Babies are made in secret, in those intoxicating moments of love and passion. When a couple experiences infertility, those secret moments of passion are often replaced with gut wrenching moments in a doctor's office, with doctors, nurses, and receptionists taking a gander at charts and medical tests and all things that once were private. Passion is replaced with frustration, love is sometimes overshadowed by fear, and what once was sacred and private becomes another statistic. We feel that invasion of privacy so deeply.
My husband and I battled infertility for a couple of years before we ever opened up about it – even to family. Clinging to what semblance of privacy we could, we guarded the sacred moments between husband and wife, even the ones in a sterile, cold doctor's office. We tried to protect our hearts by keeping private those things we inherently know are supposed to be private.
2. You have questions, but we don't have answers
Infertility introduces a crushing number of questions for which we rarely have answers. My husband and I were diagnosed with unexplained infertility, so we quite literally had no answers for most of our questions. Not having answers to our own questions is brutally painful, and not being able to answer your questions has its own pain and frustration too.
We know you have questions, and we know that most of your questions come from a place of love and concern. You want to know how we're doing, but most days we really don't know. You want to know if we're okay, but sometimes (most of the time) we aren't. You want to know how to help, but really, you can't. You want to know why we don't have babies, so do we.
For many, it is easier to journey silently and alone than it is to give the same answers (or lack thereof) over and over again. The "I don't knows" and fragile facades of "I'm okay" wear us down and remind us of the never-ending heartache.
3. We feel our barrenness in our souls
I speak here as a woman of faith battling infertility. Christian couples facing infertility often feel barren within their soul. We question God's plan, we wrestle with God's will, and in our darkest moments we doubt God's love for us. After all, God's Word is clear that children are a blessing from God; so we wonder: is lack of children a curse from God?
Every Christian couple who battles infertility will do so on a spiritual level. Some will do so much more gracefully than I did. My faith was shaken to its core, and I often wrestled with God out of anger and rage. It was ugly and my heart was raw. And for a long time I was unwilling to be vulnerable with my friends and family about my bitterness and anger. Most of us don't want to air our spiritual dirty laundry for others to see.
Perhaps you are the loved one of a couple facing infertility. Remember that they are on a journey of grief, and there is no wrong way to grieve. I hope you know that you are a much needed source of strength and encouragement. You have the ability to offer comfort, even when you don't know what to say. I challenge you to value their privacy, to honor the way they have chosen to journey the path of infertility, to do what you can to protect their hearts.
Do you silently struggle with infertility? What are your reasons for staying quiet?