Infertility, or even simply the thought of becoming pregnant, can bring about BIG feelings.
Hard feelings.
Since the benefits of journaling is well-known, I thought our newest weekly challenge should be one where we look at those feelings and get them out. We can hash out what we truly think about the situation we find ourselves in with no underlying fear of judgement from even those that love us most.
Benefits of journaling during infertility
releases pent-up emotion
gives you the ability to organize your thoughts
helps you to record symptoms, goals, and personal growth
enhances emotional breakthroughs
allows you to express emotions without fear of judgment
the practice of journaling may have a positive impact on your physical well-being
it helps you to understand how you really feel about a situation or event
gives you the opportunity to re-process previous events
I want you to find a journal or notebook (I love my moleskin from Amazon), a quiet place, maybe a good cup of tea/glass of water/coffee/etc, and spend at least 5 – 10 minutes writing.
You can write about your day, about your hardships… about anything you want. Just write and see what comes up.
I love what Michael Hyatt says about journaling –
"What happens to us is not as important as the meaning we assign to it. Journaling helps sort this out."
Below are some journal prompts you can use over the next week if you'd like, but feel free to come up with your own as well.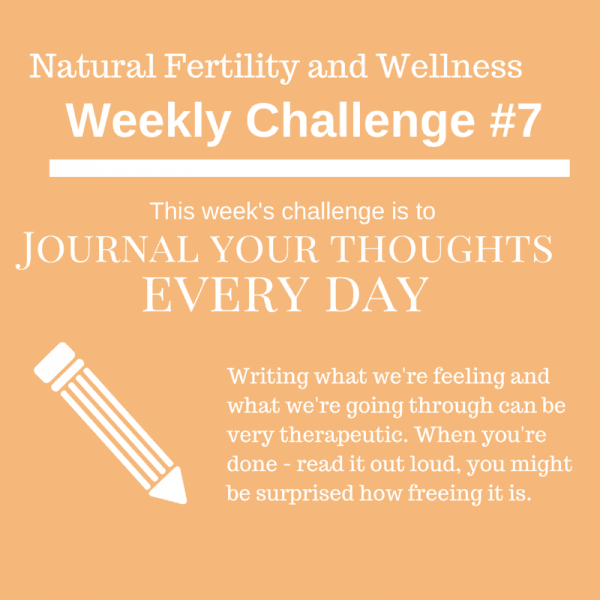 7 journal prompts for this week (or feel free to use your own)
When you were young, what was your dream family? Focus on what your dreams were before you met your husband.

What type of guy did you want to marry?
When did you want to get married?
What type of house did you think you'd live in?
When did you want to have children? How many did you want?

After you met your husband, how did your dreams change?

Did you begin to want something different in life?
Is he the man you had always seen yourself with?
Describe your relationship while dating. How did it change after marriage?

Going back to your relationship with your husband…what are your ideas about family?

How are your ideas and desires for family the same?
How are they different?
What causes you the most frustration in your relationship right now?
(if applicable)How has infertility changed the way you communicate?

If you never had children (or more children) how would that make you feel?

Why do you think that causes you pain?
What is the root feeling behind that pain? (feeling "left out", feeling like you're not complete, losing control, losing your dream, etc)

Describe yourself.

What do you not like about your personality?
What part of your personality do you love? How can you embrace that more?
When you think of your body, what comes to mind? If you dislike what you can see physically, why? When did that dislike start?
What do you have to offer to your friends and family?

If you were to have infinite resources, what would your life look like?
What scares you about your future?
Other ideas for journal prompts:
Throughout your life, what person has hurt you the most emotionally? (think about how you can resolve, forgive, or let go)
What is the biggest lie you ever told? (have you forgiven yourself?)
How have you experienced rejection in your life?
What are you grateful for today?
Remember the time when you were the happiest.
What sounds give you comfort?
What have you dreamt about this last week?
Write down 10 things you need prayer for. (patience, encouragement, finances, marriage issues, etc) Use this list to pray for yourself or ask a close friend to pray them for you. (more ideas here – http://www.amateurnester.com/2014/10/31-days-infertility-prayers.html)