Elderberries have long been traditionally used to help boost the immune system during the cold and flu season to help ward off viruses. We've been using it every winter for quite a few years now and I continue to make elderberry tincture as I find it helpful.
Over the last couple of years I've begun to prefer tinctures over the syrup for myself, and honestly I feel that it does a better job medicinally. I also use a lot less, going through only six ounces or so of tincture instead of quarts of syrup. Whereas the elderberry syrup takes a bit more time to make, doesn't last as long, and needs to be kept in the fridge. (although it does taste better!)

To make "proper" tinctures, one should use fresh plant material, but you can always use dried material as well.
To make elderberry tincture
You'll need a quart size mason jar.
1 cup dried elderberries or two cups fresh (take out any stems or plant material)
1/2 cup raw honey
optional – herbs like rose hips, cinnamon, ginger, and elder flower (I like to use a Tablespoon of each)
80 proof vodka
Fill each jar 1/2  full with dried elderberries (or 2/3 full for fresh) and add any extra herbs you'd like to use. Popular herbs to complement the elderberries are rose hips, cinnamon, ginger, and elder flowers. The flowers are known by many to boost the power of the tincture, so I've added them in for the first time this year. Cinnamon and ginger are warming and great during the cold winter season.
Stir in the honey if using (you can leave it out, but it does help the taste of the tincture).
Fill the rest of the jar with the vodka, leaving a bit of head space and making room for when the berries expand.
Place the cap tightly on the jar, label with the contents and date, shake gently and then set in a cool, dark area for at least 7-10 days, shaking each day. After it sits for a week or more, you can then strain out the berries and place the tincture in a dark colored bottle. I prefer to keep my tinctures steeping for 4 weeks.
How to use elderberry tincture:
I can't tell you how to dose your own tincture, but for myself, I take one squeeze of the dropper each morning, which is about 1/4 teaspoon. When I feel like I'm coming down with a virus I take this dose a few times per day. Work with a qualified herbalist in your area to find the best dosage for you and your family.
If you are concerned about the alcohol content, you can always put the dropper full in a small amount of boiling water and let cool before consuming. That should take care of the alcohol for you!
I've also begun to weigh the herbs and measure the alcohol so that I can get a feel for what works best for my family and so that I can duplicate the recipes each year. I'd recommend you do the same!
I purchase my elderberries from Mountain Rose Herbs, or the Bulk Herb Store, or forage them myself in August.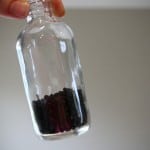 Print Recipe
How to Make Elderberry Tincture
Ingredients
fresh or dried elderberries

take out any stems or plant material

80

proof vodka

optional: rose hips

cinnamon, echinacea, elder flowers, ginger
Instructions
Fill each quart size mason jar approx 1/2 full with dried elderberries, this should come out to about one pound. For fresh elderberries I fill the jar about 2/3 of the way.

Add additional herbs as desired. I like to add two cinnamon sticks, 1/8 Tbsp elder flowers, and 1/2 cup of rose hips to each batch.

Fill the rest of the jar with vodka, leaving a bit of head space.

Place the cover on the jar, label with contents and date, and store in a cool, dark space.

On the first day, check to see if you need to add more vodka after the herbs absorb some of it. Shake gently each day for at least seven days. I prefer to let my tincture sit for four weeks, but you can use it anytime after seven days.

Strain out the berries, and pour tincture into dark colored bottles.
*Elderberry has been studied to be effective for combating the influenza virus (read: real flu, not a tummy bug) but not the common cold virus (though anecdotal stories from others do say that it is helpful.)
*I would only feel comfortable giving this to adults because of the alcohol content.
**Remember, I'm just one person trying to do my best to keep my family healthy in natural ways. Please consult a medical professional or herbalist for personalized help!