Homemade vanilla extract is far better than it's store counterpart. You just need a bit of patience. And the stuff you find in the store regularly has added corn syrup and flavorings – so always check the label before you bring it home.
I prefer to make a large batch so that I have plenty in stock, plus – if you buy cute little bottles, they make great holiday gifts!
It's a simple process really, you buy vanilla beans and soak them in alcohol for a specific amount of time. And there is really no wrong way to do it, though there are approximately 354,759 different recipes on the internet.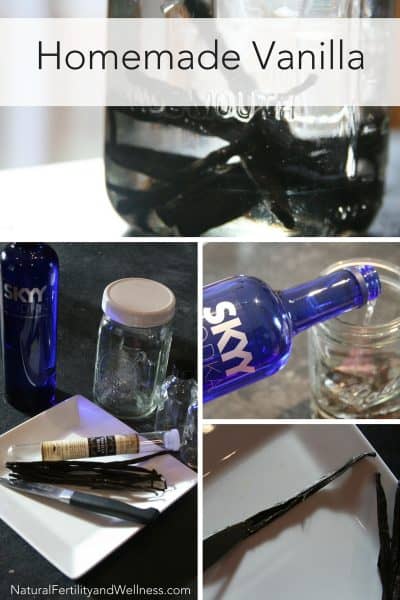 Homemade Vanilla Extract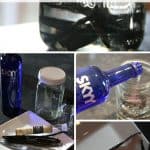 Print Recipe
Homemade Vanilla Extract
So simple and easy to make.
Ingredients
750

ml

vodka

bourbon or rum

15-20

vanilla beans

2

mason jars

quart size
Instructions
Take each vanilla bean and cut it to the length of your jar - you want to make sure it's fully covered by the alcohol. Slice lengthwise through only half of it, keeping one end attached. You want to expose the beans, but not necessarily allow them to fall out into the vanilla. (While this isn't a taste issue, it does make prettier vanilla extract if you don't have a ton of beans floating about.)

Place beans in a quart size mason jar and cover with vodka. You can also pour out a few tablespoons of alcohol out of the bottle and place the beans directly in the glass bottle it comes in!

Place the lid on and shake it gently. Each day for about a week or so, give it a couple of shakes. (I usually leave mine out on the counter during this time so I remember)

After a week or so, you can put the jar somewhere out-of-the-way, like a kitchen cupboard, and shake it gently just once a week. Or so.

The vanilla is ready to use after about 6 weeks, though the longer it sits, the better it tastes. Four months is absolute perfection. Just pour out the vanilla into another jar and then you can actually re-use the beans to make at least one more batch.
Notes
Feel free to use other vanilla beans, Beanilla beans are simply my favorite!
Tips and tricks:
Most directions say to place it in a cool dark place – it's what I do. But my friend Jodi put her vanilla extract in the sun and it worked just fine.
The vodka you buy DOES make a difference. Cheap stuff is, well…..cheap stuff. Buy at least a mid-priced vodka and you'll get a better tasting product.
If you're not used to buying alcohol and really have no idea what to buy, go to a liquor store. This way you can just ask the guy at the counter for a mid-priced vodka instead of standing at the supermarket feeling silly in front of a massive wall of booze.
Jodi was also the one that bought a bunch of cute little jars for us to use.
And she also made her vanilla IN those little jars.
Katie used bourbon in her vanilla.
And Crystal actually just put the vanilla beans in the jar of vodka. Uh…brilliant!
My favorite beans to use are Madagascar vanilla beans from Beanilla (available from Amazon). They smell and taste fantastic, though are a bit on the pricier side.
It tastes amazing in my Vanilla Kefir Ice Cream
Have you made your own vanilla before? What process do you use?