Should you use butter or margarine? I'll make it easy for you – my personal opinion is that butter is better for your fertility and hormone production.
Over the past few decades it seems that this debate is never-ending. Studies are done and one finds benefits in butter and one thinks margarine is best. What are we to believe?
I used to eat only margarine with my Standard American Diet. I ate low-fat "healthy" foods all the while exercising 5 days a week. Although I was thin, my cholesterol was a whopping 258 (which put me into the extremely high category w/ my 'bad' cholesterol (LDL) being almost 100 points over recommended levels at 191) and my PCOS was basically running in high gear. Fast forward 5 years and I've learned a lot about eating more nutrient dense foods.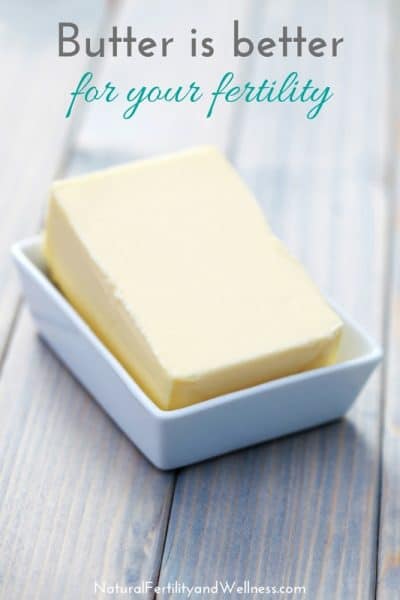 I gave up processed foods an my cholesterol is now down to a very normal 168 (the LDL now below 100) and my PCOS is under control.
Right now I eat plenty of fat, even saturated fat. I haven't purchased margarine, or vegetable oils, in many years.
One quick note before I talk about the whole butter vs. margarine thing: Do you know why cholesterol builds up in your blood vessels? Cholesterol is actually acting as a healer for your damaged arteries. One reason is that it's trying to repair the damage done by unhealthy fats. And back when folks ate (on average) 18 pounds of butter per year, heart disease was extremely rare. From 1920 to 1960 the average dropped to only 4 pounds per year and heart disease rose to become the number one killer of Americans. Many people are beginning to think there is a direct correlation there.
8 Reasons why butter is better
Butter, especially from grass-fed cows, contains nutrients like vitamin A which is easily absorbed by the body since it is a fat soluble vitamin and butter is fat. Vitamin A is important for the immune system as well as hormone production and fertility.
Natural fats like butter help to maintain the health of your thyroid and adrenal glands.
Butter contains lecithin, which is a substance that assists in the proper assimilation and metabolism of cholesterol and other properties of fat.
It contains anti-oxidants that protect against artery damage.
It's also a good source of cholesterol which is needed for progesterone production.
The saturated fats may actually have anti-cancer properties as it contains conjugated linoleic acid which is a great protection against cancer.
The vitamin A in butter also ensures proper growth for babies during pregnancy as well as for children. During pregnancy, a diet low in vitamin A can cause narrow faces, small skeletal structures, small palates and crowded teeth.
Good fats (a.k.a. butter) are also pivotal for sex drive and fertility because your body needs these lipids to produce its hormones correctly.
Now I know there will be many, many of you that still refuse to listen to any of this and think I'm pretty full of it. Maybe I am. But I do know that my body works better now while I eat butter and more fats than when I followed a low-fat diet and ate margarine.
Butter was one of the first switches I made when converting to a real/whole foods diets and it's a fairly easy one at that. So if you're ready for the next step – replace the margarine and soft vegetable spreads you have in your pantry! It doesn't cost much more, and after a while you'll realize how "fake" margarine really tastes.
Where to find good butter
You can find butter in any super market, but you do get what you pay for. I prefer to buy butter from sources that use milk from cows that were outside grazing on grass. Especially in the spring, this butter will be higher in the all important vitamin K2 which assists the body in vitamin A and D absorption.
I will even buy "grass-fed" butter even if it's not organic, although organic butter can be a step up from conventional store-bought butter.
If you have access to cream and not butter, you can actually make your own!
How to make homemade butter
There are many ways to make butter at home! You can use the "shake in a jar" method like I describe below or you can use a hand-held butter churn, stand mixer, or hand mixer.
Print Recipe
Homemade Sweet Cream Butter
Ingredients
Cream

any amount (I use 2-3 cups), preferably organic and from grassfed cows
Instructions
Let the cream warm to about 60 degrees. If it's too warm it may not separate well. (when this happens, I stick an ice cube or two into the jar)

Pour into a mason jar so it is about half full and shake.

After shaking for about 15-20 minutes you'll have a ball of butter and the buttermilk will be completely separated.

Pour out the buttermilk for another use and then put the butter into another bowl.

Grab a spatula and "massage" (rinse) out the rest of any buttermilk under cold water. This gives the butter longevity as the leftover buttermilk will cause it to sour.
Notes
Instead of a mason jar, you can also use a blender on low speed, or a mixer with a regular paddle attachment.
I still use the mason jar as it always works!