It was a proud moment for me. I overheard my daughter asking, "Hey daddy, can I have one of those um, um, paper… things?" She was asking my hubby for a paper towel when we were on vacation, and she didn't know what it was called. That is because our family has not bought or used paper towels, or any other type of paper product (except for toilet paper), in our home for over a year. We had successfully made the switch from paper products to cloth and my daughter didn't know what a paper towel was.
It's one of the biggest questions that I get from friends, family and readers, "How do you make the change to using all cloth around your home?" or "How do you clean your house without using paper towels?"
I realize that for some people it can feel overwhelming, or seem like a big obstacle to overcome, to switch from using disposable paper products to cloth all around the house. But, it's become so second nature to us that I really don't even think about it any more. So, I wanted to share with you a few tips and steps that you can take to move toward a paper free household.
I also want you to know that I'm all about taking baby steps. I think that lasting change comes when we make simple and small changes, that are easily maintained, instead of diving right in and maybe getting over our heads and then falling back on what we know and are used to. For me, baby steps are definitely the way to go about making a change, and making it stick.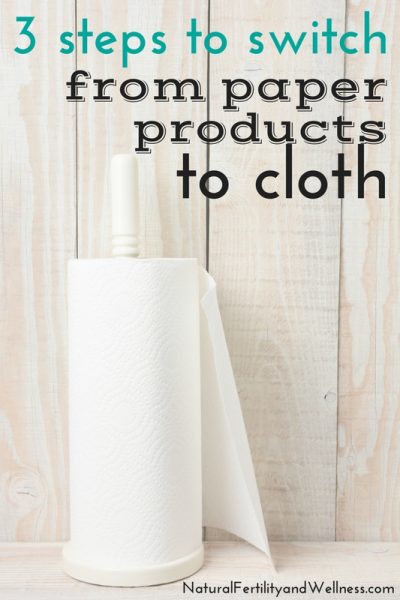 3 Steps to switch from paper products to cloth
First of all, start seeking alternatives to paper.
Go to the kitchen and the cleaning sections at the store and look at the different options for cloth that are available. Think about what types of cloth you will need for different uses around your home and decide what you think would work best in those situations. I have several different types of cloths for different purposes around my home.
I use kitchen towels for drying hands and dishes, washcloths for wiping down counters and other general cleaning, baby washcloths for wiping off children after meals, knitted dish cloths for washing dishes, and bar map towels for more serious cleaning like wiping up spills on the floor, in my kitchen. I use microfiber cloths for all kinds of general cleaning around the house. I also have lots of plain hand towels that I use for general cleaning up of spills and all kinds of messes that only a 2 year old and 1 year old can make. I make my own disinfecting wipes, and I use cloth wipes for my baby's bum. I even made my own cloth swiffer sweeper covers. Did I miss anything? Is there something that you use paper for and haven't been able to find an cloth alternative for?
Secondly, start stocking up on cloth.
If you see cloth wipes on sale at the store, stock up. Even better, start checking out thrift stores and garage sales for cloths you can use around your home. Or look at cloth items that you already have around your house that could be re-purposed.
Since I'm all about being green and being frugal, I love buying second hand cloths for two reasons. One, it's cheaper than buying new cloth. And two, it's better for the earth. It saves on the raw materials, production and manufacturing, transportation, energy, etc. used to make brand new cloth. I also love find new uses for things I already have. I cut up my hub's old t-shirts to make my disinfecting wipes, and I used old flannel receiving blankets to make hankie wipes to use in place of tissues. No need to spend money and buy new cloth when something you already have will work just as well!
Finally, set up a system.
Using cloth takes a little more thought that using paper products, at first. Where do you store them, what do you do with them once they are used and dirty, how often will you wash them? Take some time to figure out what you think will work best for you and your family when using cloth. You may need to clean out a drawer in your kitchen so you can store your cloth napkins and towels in a place that is easily accessible, or you may need to get a small hamper that you can throw your used cloth in.
For us, we have a drawer in our kitchen dedicated to cloth, as well as a few other spots where cloth is easily accessible, like the drawer that also has our kids plates and bowls. Our linen cabinet in the hall has an entire shelf dedicated to cloth cleaning rags. Our laundry is in our basement off the kitchen, so we set up a hanging mesh laundry bag at the bottom of the stairs and I throw our used cloth down there and then I usually do cloth laundry twice a week. Figure out a system and tweak it as you go and learn what makes using cloth easy for your and your family.
You can make the change from paper to cloth slowly and gradually. One way is to move your paper products like paper towels or tissues to an unseen, somewhat inaccessible place, and put your cloth products in a convenient, easily accessible place. When your paper towels are not sitting on the counter just asking you to grab one, and your cloth is closer and more convenient, your much more likely to reach for the cloth. Soon you will find that all of the reasons you thought you needed paper towels are easily, and usually better taken care of with cloth.
In fact, now when I am in situations that I find myself having to use a paper product, I get a little annoyed because I have found that they really don't work as well as their cloth counterparts. Paper towels are flimsy and disintegrate, while cloth wipes can clean up messes all day long with just a rinsing out in between. Paper napkins smear the food around on my kids' hands and faces and don't stand a chance against anything sticky, while a damp washcloth cleans them up quickly and effectively.
Although you too may have thought to yourself, "What would I do without paper towels?" As you take baby steps to switch over your household to cloth, I think you'll end up wondering how you went without it for so long.
Emily McClements is passionate about caring for God's creation while saving money at the same time. She is a blessed wife and mama to two young children, and blogs about her family's journey toward natural and simple living at Live Renewed.