Over the last couple of years I've been using an increasing amount of herbs in my home. Not only for cooking, but also for making my own home remedies. I've found that the more natural remedies I use, the less I need conventional medicine.
This summer season I'll also be planting many of my own medicinal herbs. Being able to grow and harvest my own herbs will not only save me money, but will allow me (and my family) to experience herbal medicine at it's best.
7 herbs to plant in a medicinal herb garden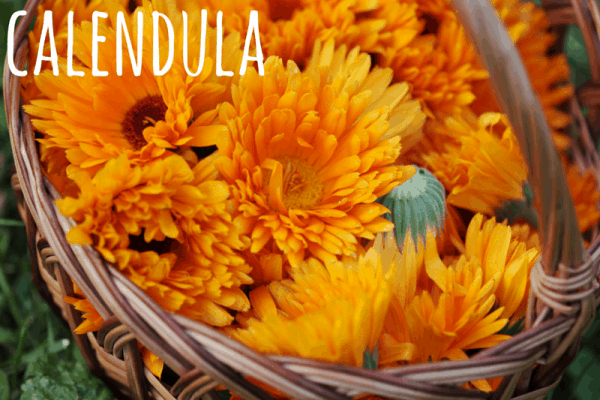 1. Calendula
This flowering herb has a special place in my heart as it's the birth flower for October, the month our third baby passed away during pregnancy. So I'll be planting it within my herb garden as well as in my flower garden.
Calendula is an annual flower, it's name referring to it's tendency to bloom with the calendar, either once a month or sometimes with the new moon. It's been used treat amenorrhea (heavy periods), conjunctivitis, fevers, cuts, scrapes, bruises, and burns, as well as minor infections of the skin. Most commonly it's found in herbal salves for the skin. The flower's petals can even be used in salads and soups. I love to use it in preparations for the skin!
The calendula seed can be direct sown into the soil in warmer climates in early spring. Start indoors in cooler climates and transplant after the last frost.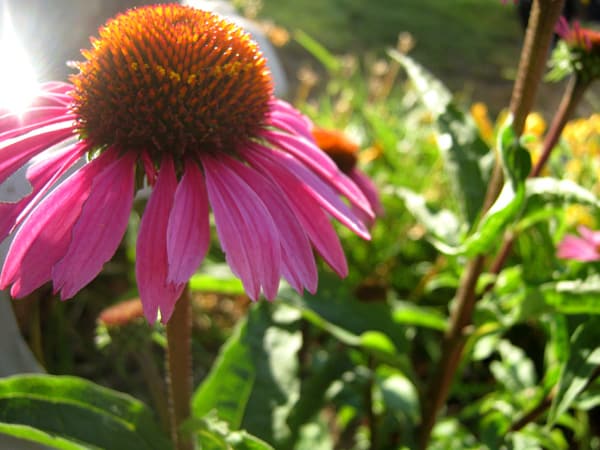 2. Echinacea
One of the most popular herbs in America, echinacea is one of the most used herbs for the prevention and treatment of the common cold. It's ability to stimulate the immune system makes it a great herb to have on hand and it can even be used to treat chronic yeast infections and other disorders tied to the immune system. The native Americans also used it for treating bug bites and stings.
Also known as the Purple Coneflower, this flowering herb can grow to be three feet tall. It grows in most soils and climates quite easily and each plant gets larger each year allowing you to split the plant and share with friends.
As an added benefit, the bees and butterflies love this flower!
3. Lemon Balm
Part of the mint family, this herb has a distinct lemony scent. Lemon balm is used to treat disorders of the central nervous system, insomnia, headaches, and skin infections. Made as a tea it can also help with digestive problems. We love to pick this herb fresh and make a cup of tea after dinner, stirring in just a bit of honey for sweetness.
This herb is easiest to start indoors as the seeds are very small and easily washed away. Transplant when the plant is a few inches tall or after the last frost.
4. Burdock
While this herb grows quite well in the wild, not all of us are able to wildcraft our herbs and this is a simple one to add to the garden. The root is useful as a liver treatment, stimulating the digestive system, and soothing colds and sore throats. Leaves can be used and cooked like spinach.
Plant in well-drained soil and prune or harvest the leaves as it grows to stimulate more root growth.
5. Peppermint
This herb makes a great tea and adds flavor to herbal remedies and foods alike. Peppermint is also helpful in treating digestive disorders and upset stomachs. It's also a great herb to pair with other, less tasty, ones when making a tea or infusion – the natural sweetness also means you add less honey or sugar to it! It also has a cooling action on the body, so a glass of cold peppermint tea in the summer is very refreshing. I like to make a nettle/peppermint infusion to sip on throughout the day.
This herb is terribly invasive though, so plant in an area with a border at least fourteen inches deep, or plant it only in pots. Otherwise it'll grow throughout your garden and take over.
Also be aware that peppermint can reduce milk supply in nursing mothers.
6. Yarrow
The British Herbal Compendium has noted that yarrow lowers fevers, stop cramps, encourages menstruation, relieves inflammation, and stimulates the release of stomach acid to digest proteins and fats. It can also be taken internally to treat colds, fevers, and indigestion, and used in skin treatments of slow-healing wounds.
Planted in full sunshine, yarrow is easy to grow and can be divided for sharing.
7. Plantain
Quite often a lawn "weed", this herb is a great addition to a medicinal herb garden. It's helpful in relieving the pain of bee stings, stopping the itch of poison ivy, and promotes the healing of cuts and bruises. I always have a plantain salve at home and bring it with us when we travel. You can also mash it up and apply directly on the bug bite/bee sting.
Start plantain indoors to ensure a better rate of germination, transplant when they have two leaves.
Are you planting any medicinal herbs this year? What are your favorite ways to use them?
*All herb information taken from Mountain Rose Herbs.
photo credits: burdock – vlsergey, peppermint – scrisman, yarrow – kostrez