Living Without a Microwave Oven
This is a guest post from my friend Jodi over at JodiMichelle.com. They've been living without a microwave since last summer, so I jumped at the chance to have her share her story here. {By the way, she's promised to post video of herself dancing routine from a popular song. Jodi…..we're waiting. 🙂 }
The journey to getting rid of our microwave started about 4 years ago when we went to Virginia to visit friends over Christmas.  I have such great respect for these friends, they're near and dear to me and so much farther ahead in living responsibility and taking care of our earth but when I noticed they didn't have a microwave sitting on their counter I was very literally shocked.
SHOCKED!
I had no idea that it was "acceptable" to live without a microwave.  I mean, how did they make their oatmeal?  Or cook their chicken?
Oh yes.  I grew up with a mother who would bake things in the oven and if it wasn't done to her satisfaction she'd whip it in the microwave before serving it to us.
I was dumbfounded to watch our friends warm up their left overs on the stove, in a pot or pan or whatever it took.  Quickly heating up a casserole under the broiler for a few minutes.  What was even more amazing to me was that it worked.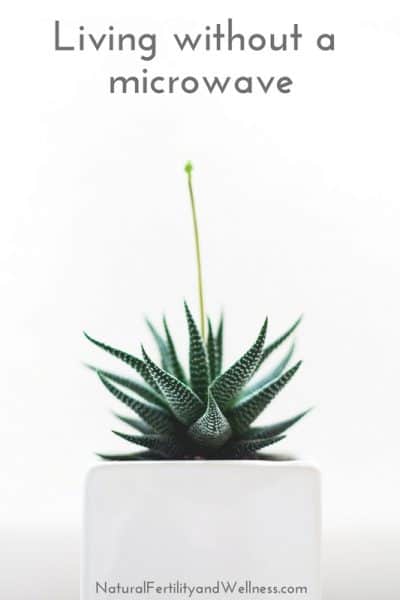 Oh, I wish I was kidding you, but this was a whole new idea to me – one that I was sure had failure written all over it, I actually had the conversation with my husband that we should (wait for it) buy them a microwave before we left as our thank you gift to hosting us for the holidays.
So that was my first clue to living without a microwave and when we came home I quickly turned to my husband and said, I'm throwing it out!  We can live without one!  But I was vetoed.  He wasn't ready for it so we kept it on our counter and used it once in a while, still making instant oatmeal and reheating the leftovers when needed.
It started to blow the breaker every time we'd use it though.  Which spells trouble to me when I'm putting my food into a box that has the potential of blowing my house up … yeah.  Not so good.
Fast forward to when my niece came for a visit from Arizona this past summer – they also don't use a microwave and she was so against eating something from a microwave (or wearing sunscreen) that she ate dinner cold at our house one night.  Not sure why I didn't just pop it in the oven for her, but she sat there happy as a clam to eat cold lasagna unaltered from the waves of our death box on the counter.
Which is when I finally decided to cut it out already.  The microwave had to go.  My husband still had feelings for it though so instead of using it – it sat there on the counter for a couple months while he got used to the idea of letting it go.  But then it broke and I threw it out.  He rescued it and it now sits on the floor in our mudroom – and he does use it every once in a while, but it's a complete pain to prepare whatever it is he wants and then to go out in the cold mudroom, get on the ground and push those buttons.  He has a bad back, too, so this won't last long.  (I'm only sorta happy about that in a very sinister way.)
It's amazing how living with the microwave has changed how we prepare food.  I just don't make HUGE batches of anything anymore because really when I thought I was making extra food for additional meals later (left overs) I was taking up valuable real estate in my fridge with rotting food, because we never ate the left overs – and I'd keep preparing large portion meals for more left overs through out the week.
The microwave was like a permission slip to gluttony that we just never cashed in … but in the end it cost us hundreds of dollars every year in groceries I'd throw out and packaged food I would buy that didn't fill our tummies or nourish us in any way.
We eat oatmeal, but it's stoneground and soaked now and the leftovers we do have become ingredients in other meals or soups … or we just reheat on the stove.  I've been more intentional about preparing food now because there is no lazy way out.
I haven't done much in-depth research on why a microwave is bad for you but I've heard and read enough to agree with that statement and we're now a happy, hippy family!
Thanks Jodi!
And to my readers that haven't yet met Jodi, she's fabulous at oversharing on her blog. Her writing is simply fantastic.