Summer is awesome. I love being outside to soak up the sun or take a visit to dip my toes in Lake Michigan. After long, cold winters, I don't mind the heat, I welcome it. But it sure is too hot to cook some days!
I start to crave easier, lighter meals that take less time to prepare and don't heat up my house.
It's perfect timing really because as soon as I started to feel that way, the summer produce starts rolling in for yummy salads and sandwiches.
It is so easy to fall into the 'salad rut' as I call it, but listen to me, there is no reason for it! Get creative! Change it up!
I stop by the farm stands around my area at least once a week in summer. I enjoy browsing and picking out vegetables that are not normally in our standard grocery rotation. I enjoy the challenge it brings to add them to new meals.
If you aren't feeling brave, start out small, change up your greens. Lettuce, spinach, kale, arugula, beet greens….they will all make such a difference in your salad.
Salads
Even just trying a new dressing on the same vegetables can breathe new life into the meal. You don't have to go nuts, just a little change and you are set with a great new salad.
Trying different spices, oils or even different vinegar.  Each new change brings such a great flavor to the mix. 
Browse in the grocery store in the dressing aisle. You will find lots of different ideas. I love looking at premade dressings (I don't buy them because of the oils and MSG) to get ideas.
Need some inspiration? Here are some awesome dressings to try.
Dressings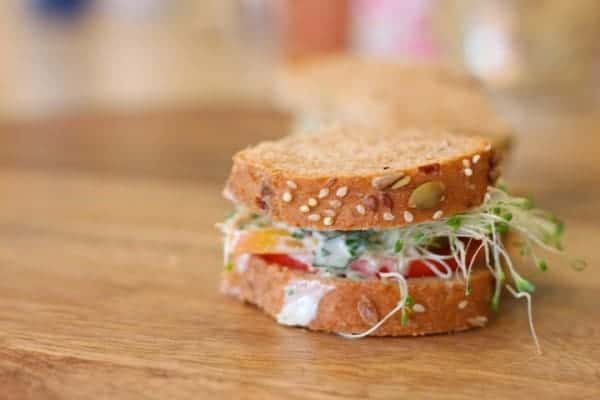 Sandwiches are a favorite here. We love them in the summer because they are quick and require little to no heating. I love that there are so many gluten-free bread options available now. It makes for a guilt-free sandwich.
Sandwiches
Now, you have a HUGE amount of ideas to keep your house cool and nourish your body with summer fresh produce.
What is your favorite, non-cooked summer meal?