A small look through my (iPhone) lens this week.
You know you have a good friend when she comes bearing weeds. (comfrey and yarrow)

Strawberry season is over (after barely starting at all) but we did enjoy a bit of strawberries and whipped cream. They just kinda go together like……..strawberries and cream.

Last week a storm started to roll through, and decided to pass us. Again. It's been such a warm winter followed by a hot and dry spring – ironic that I'm reading through On the Banks of Plum Creek and it is the exact same weather pattern. They called it grasshopper weather…..and we currently have tons of baby grasshoppers all over…..

It's been in the mid-90's for quite a few days this week, so I packed up and headed to the beach early one morning. And no one was there! It was fabulous being able to spend over an hour in the quiet, reading and reflecting. There is something so amazing that happens when we take the time to relax in the quiet! No matter what it is; a day at the beach, reading a book, hiking, dancing, painting doing something we enjoy when we are separated from multiple distractions and sources of noise and chaos, our brains begin to relax and we can feel more calm.

Again we had a storm blow right over, though luckily the second one came by a few hours later, bringing us an hour or so of much needed rain.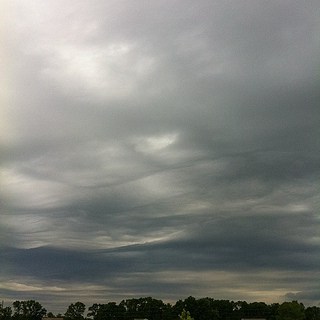 Yesterday I had ice cream for breakfast. And I promise I'll stop teasing you on the NKU Facebook page and post the recipe already – watch for it next week.
Update – recipe here – Strawberry and cream sorbet.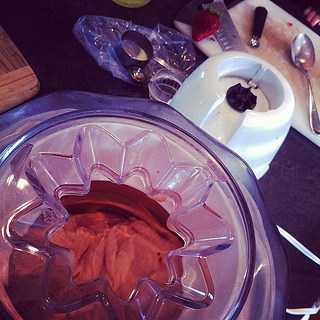 I also made this chive blossom vinegar that turned out so gorgeous, I'll have to post about it as well. (If you've made it before, what do you use it on? I feel like I must make something fantastic to do it justice.)

And this just completely pains me to show. My camera is dead. And yes, a 30D is basically geriatric when it some to digital cameras and I've had it for 5 years, but I am not in a position to spend money and buy another one right now. So until I find a way to fund a new camera, this is the first time since I was gifted with my first SLR upon graduation that I have been without a good camera. Please bear with me if I start posting some crummy pictures…….  *sob*

That's what's happening in my life this week – what have you been up to?