It started snowing the week of Thanksgiving where I live, and I haven't seen our grass since. After a long (and I mean LONG!) winter, seeing our farmer's markets open, and abundant bundles of spring asparagus pop up makes every last ounce of winter blues melt away!

West Michigan is known nation-wide for our abundant asparagus in the late spring, and every April and May I load up our house with green goodies bursting with spring flavor.
We eat pretty seasonally, so after our long winter, I can't tell you how *good* asparagus tastes!!!
Roasted asparagus is a great start. If you have never had asparagus before, I would start here! The flavor is incredible, and the recipe is very easy. Serve it alongside beef roast and potatoes, or a roasted chicken and squash!
Three Asparagus Recipes: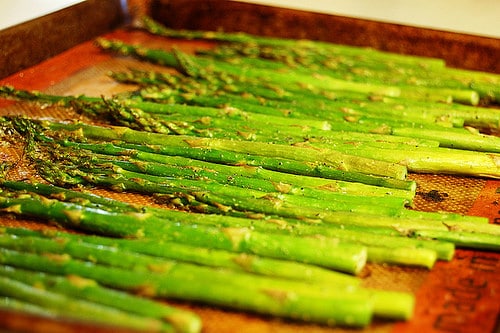 Roasted Asparagus
Roasted Asparagus
Author:
Renee - www.naturalfertilityandwellness.com
Ingredients
1-2 lbs asparagus, coarse ends cut
2-4 TB friendly fat to roast in (butter, coconut oil, lard, bacon grease work great)
2 cloves garlic, minced (optional but so good!)
Sea salt/pepper to taste
Instructions
Toss the asparagus with the friendly fat, garlic, and seasoning on a sheet pan and spread out evenly.
Roast at 400 degrees for about 25 minutes. I love the little tree tops a little "crispy" so sometimes I go a little longer – all in your preference – check them around the 20 minute mark in case you want them less "done".
Asparagus soup is a great way to take advantage of the end of the season "sales". Right around the end of May when the asparagus season comes to a close, the farmers at the market start selling their asparagus bundles super cheap.
As in usually half the cost per pound and even less if you buy them in 10-pound groups.
So what do I do with all that asparagus? Soup!
This soup freezes up so great.
And you can make large batches that you can stash away so that late fall or early winter you can pull it out for something different to have!
Asparagus Soup
Asparagus Soup
Ingredients
3-4 TB friendly fat to cook in (butter, coconut oil, lard, bacon grease)
2 onions, sliced
2-3 cloves of garlic (just coarsely chop - it will all be pureed anyway!)
1 ½ quarts chicken stock (homemade preferable for extra nourishment and to avoid BPA)
4-5 small red or yellow potatoes, coarsely chopped
2 bunches asparagus, hard ends discarded, coarsely chopped
Sea salt/pepper to taste
Garnish with sour cream or coconut milk if you wish
Instructions
Saute the onions in the friendly fat over medium-high heat for about 5-10 minutes with a couple pinches of salt to bring out their juices and sweeten.
Add the garlic and cook a couple of minutes.
Add the stock, potatoes, and asparagus and bring to a boil.
Reduce to a simmer for 10-15 minutes or until the asparagus and potatoes are cooked through.
Use a handheld blender or regular blender to puree the soup smooth. Add salt/pepper to taste.
Garnish with sour cream or coconut milk if you wish.
You can stir-fry asparagus SO well.
The flavor is amazing, and you can pair it with other spring favorites like peas or radishes.
If you have those really thick asparagus stalks that have a bit different texture (in my opinion!) you can shave the spears with a peeler and it makes perfect stir fry veggie additions!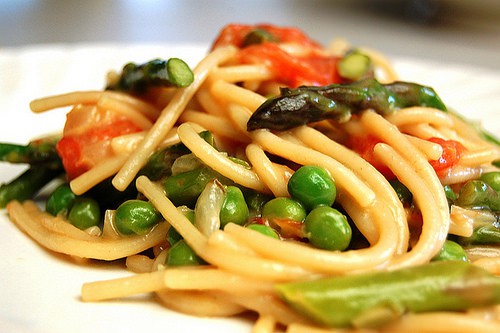 Veggie Pasta with Asparagus
Spring Veggie Pasta (Grain Free Option)
Author:
Renee - www.naturalfertilityandwellness.com
Ingredients
½ package of brown rice pasta (if you are grain free you could use chopped potatoes)
½ medium onion, chopped
3-4 cloves garlic, minced
1 bunch asparagus (about 1lb), coarse ends removed, chopped
1 cup fresh or frozen peas
1 large tomato, seeds and juices scooped out and chopped (could do halved cherry tomatoes!
¼ cup reserved starchy liquid from cooking the pasta (I cook my pasta in stock for more nourishment and so my liquid is stock too but water works as well)
1 ½ cups cheese, shredded (Raw cheese preferable. Otherwise, stick with organic right off the block – shred your own – the pre-shredded cheeses have too many unnecessary additives. If you are dairy free - just leave it out! It will be just as good with a drizzle of olive or coconut oil!)
Sea salt/pepper to taste
Optional extra virgin olive oil to drizzle over top to garnish
Instructions
Cook the pasta to al dente and set aside. Reserve about ¼ cup of the starchy cooking liquid for the veggie mixture sauce.
Saute the onion in a few TB of butter or coconut oil and a pinch of salt for a few minutes.
Add the garlic and cook for a minute.
Add the asparagus and another pinch of salt and cook on medium high for a few minutes until bright green and slightly tender.
Add the peas and tomatoes for a minute or two and then add the starchy pasta liquid.
Simmer the mixture about 5-10 minutes and then pour over the cooked pasta.
Stir in the cheese until melted and is combined with the sauce making it creamy.
Serve with a drizzle of olive oil if desired.
What are your favorite ways to use up your spring asparagus?