It's that day every year where many women feel so very alone, left out. And the Mother's Day after miscarriage can be especially hard.
We turn our focus inward, separating ourselves from others.
What we lack becomes our only focus. We get angry, bitter, sad, depressed. Skipping Mother's Day get-togethers with family or services at church.
We're being selfish, but we have a right to be. Right?
I want to challenge you this year, to make a change. To make a difference.
Over the last few months, since our baby passed away, I've been thinking. A lot. I always looked at other people in crummy situations and thought "If that ever happened to me, I'd still live out my life to the fullest. I would choose to be happy and make the best of my situation! I would want to be a witness to others for God's amazing love, even though I struggle."
But I haven't always done that.
In fact, I've done a really bad job of doing that.
I may not have cancer, and I may not deal with physical limitations, but I still get brought down with my struggles. I let Satan's record play over and over in my head, telling me I'm not good enough. That I'm not worthy, that something is wrong with me. I allow the events of my miscarriage to replay over and over, robbing me of the peace I've experience over the last few months. The grief keeping me up at night until the darkness overwhelms me. I dwell on how "unfair" it all is.
My grief became sin.
And I call out to God – crying and pleading for peace, to settle my soul. But it doesn't come…… until I realize that the little voice in my head is not my own.
Are you allowing yourself to be brought down by the one who wants to see our demise? Are you in a battle against the enemy that wants nothing more than to make you feel miserable, so much so that you stop doing the work of the Lord?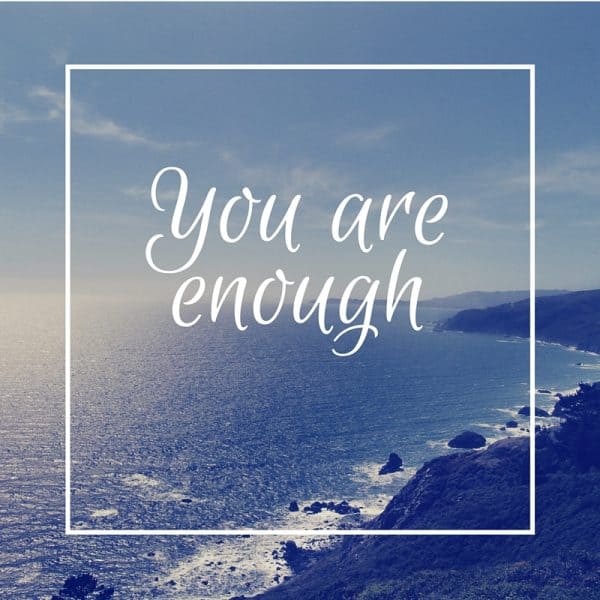 My dear friend, I want you to know that you are enough.
You are good enough, you are whole enough, and you are so very loved. Your status as a mother does not define who you are. And we can not let these attacks on our emotions take control of us.
"Set me free from my prison, that I may praise your name." – Psalm 142:7
Let us choose joy.
Let us choose to be full of life and service to others.
Let us show how the love of the Lord works in us and through us, even in times of struggle.
"May the God of hope fill you with all the joy and peace as you trust in him, so that you may overflow with hope by the power of the Holy Spirit." – Romans 15:13
It seems difficult to serve others when we ourselves are hurting, but you, my friend, also know how others in your situations may be feeling. Your ability to minister to others will leave a lasting legacy in their lives.
So how do we show love to others this Mother's Day?
Send a card to someone who may be dealing with infertility. Let her know you're thinking of and praying for her.
Same thing goes for a woman who has experienced the loss of a child this year. To often our culture deems a woman only a mother when she can physically hold her child. But there are many that long to hold their children, yet will have to wait for heaven until they can. Let these mothers know that they are celebrated and loved.
Look around your social circle or church for that single mom that needs encouragement. Invite her over for dinner or send her a card acknowledging her work.
There are also mothers out there struggling with feeling their worth as older children cause a divide in the home. Find a way to encourage them, give them a hug and let them know how "good enough" they really are.
The loss of a mother is also a devastating event. (it's actually the real reason Mother's Day was created. The founder wanted to have a way to honor her mother after she had passed.) So remember those around you that no longer have their mother with them.
I'm not suggesting that the pain of infertility or loss will go away. We all have different journeys, different emotions, different outcomes. I'm only suggesting that we show love to others who are struggling on Mother's Day as well, to let them know they are being thought of, that they are loved, to help take some of the sting out of their day.
How have you been able to choose joy?
How are you showing love to someone else this year?