Sleep is so important for our overall health, but also for the health of our hormones.
I wish I had always known that!
Instead, I often stayed up late: reading books, watching movies, finishing household projects…
It was a horrible cycle of staying up late and using coffee to get going the next morning. After a while, I struggled to fall asleep before midnight, but I brushed it off as being a night owl.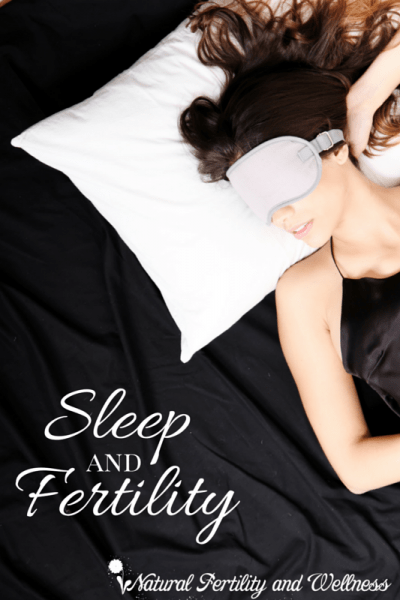 If only I had known then what I know, maybe I could have prevented adrenal fatigue.
As we work through our fertility challenges and I share things I've learned in my own journey with infertility, I'd have to say this is one of the most important.
My notes on sleep and fertility
1.Our adrenal glands are more at rest and can better produce the hormones our bodies need when we get quality sleep. We also naturally will produce more cortisol betwee11 PM and midnight if we're not asleep, keeping up awake even longer and changing the way our bodies produce both cortisol and melatonin (two important hormones). But if you're asleep by 10PM, the cortisol boost won't happen until morning, allowing you plenty of energy to wake up and get going.
2. When we follow the pattern of the sun our bodies are working within its natural circadian rhythm. No matter how long we've kept the schedule we have, our bodies have an ingrained circadian rhythm that controls:
Neurotransmitters – chemicals released in the brain which allow impulses to travel from one nerve cell to another
Hormone production – chemical messengers
Enzymes – which catalyze chemical reactions
Behavior
Appetite
Body temperature
Blood pressure
Heart rate
Metabolism
Libido
(source- fertility_health.com)
3. Our bodies also tend to ramp up elimination and detoxification of the liver between 1 and 3AM, but to do so, it needs a lot of energy. Energy the body won't have if you're awake!
4. Length of sleep also matters! Did you know women that don't get enough sleep struggle with leptin production? If you don't have enough leptin, you may not ovulate. Leptin is also important for weightloss.
How much sleep do we need?
Experts recommend 7-9 hours across the board. If you struggle with hormone imbalance and/or adrenal fatigue, nine hours would probably be best.
In our culture of go-go-go, it seems that we think doing more and resting less makes us more productive…and we think less of people that look "lazy". Unfortunately, this thinking has many of us struggling with our health! How great would it be if we simply got the rest our bodies need?
To allow for proper restoration and healing. For proper detoxification. For hormone balance.
When should we sleep?
All of us have very different schedules and we do need to work within certain time-frames depending on our work hours, but the best time to sleep is between 10PM and 6AM. 
Have you ever heard the saying "one hour before midnight is worth two after"?
Getting to bed by 10PM allows us to follow our natural circadian rhythm and fall asleep when it's at the lowest point. We can then wake as the sun comes up between 6 and 7AM.
weekly challenge #16: get to bed (preferably asleep!) by 10PM each night.