Salmon was something I avoided for the first 25 years of my life. I hated eating fish with a passion! The texture, the taste, the smell, everything about it turned my stomach. I knew it was healthy for me, but I just. couldn't. do. it. I'm so glad I got over so many of my picky eating habits because this baked salmon with creamy dill sauce is now one of our favorite meals!
There simply came a day when I was finally receptive to change (infertility will do that to you!) and I knew that including quality fish in my diet was needed for me to help bring my body back to health. So I started to make myself eat it once every couple of months. Before I knew it my taste buds seemed to be changing and I didn't mind it so much, though I couldn't say I "liked" it quite yet.
Years later I love salmon, especially the fresh wild caught salmon that I can get for only a few weeks in the summer. I normally cook it quite simply, just butter, salt, and pepper. Which is rather boring I must say, but I was always apprehensive to ruin a cut of meat that cost $20.00! I once tried a dish that my friend Jodi Michelle made for me and while I loved it, it didn't go over well with Todd. I totally loved it, but I don't like cooking a big dinner for one.
A few weeks ago I really wanted to use some of the fresh herbs in my garden along with a fabulous fillet of salmon I had just picked up so I spent some time googling recipes and ingredients and finally came up with a dish that I really liked, though very different from what I'd always done.
This dish has a rich flavor and is an amazing way to vary the way we serve salmon. Pair it with a baked sweet potato, roasted root vegetables or crispy potato bake and sauteed kale and onions for a nice well-rounded meal.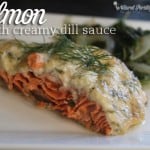 Print Recipe
Salmon with creamy dill sauce
Baked salmon kicked up a notch!
Ingredients
1

cup

mayonnaise

1/3

cup

dijon mustard

1/2

tsp

fresh thyme

chopped

1

tsp

fresh basil

chopped

1

tsp

fresh oregano

chopped

2

tsp

fresh dill

chopped

1/3

tsp

salt

to taste

1/8

tsp

pepper

to taste

1

lb

salmon fillet
Instructions
Preheat oven to 375 degrees.

In a medium bowl, stir together the mayo, mustard, thyme, basil, and oregano and half of the dill until well combined. Salt and pepper to taste. (I started with 1/3 tsp salt and 1/8 tsp pepper)

Place the salmon on a baking sheet. If you don't like to eat the skin, remove it before preparing!

Cover the salmon with the prepared dressing, sprinkle with the remaining dill, and bake for about 20 minutes, or until the fish is baked through and flakes with a fork.