Rustic Cranberry Apple Galette
It may still be in the 80s and 90s down here in the south, but I know fall is here. Gone are the summer fruits and veggies, in come the apples, cranberries, pumpkins, and sweet potatoes. And I am so excited about it! I'm ready for the herbal pumpkin mochas in the morning, the apple crisps for breakfast, sweet potato casseroles, and all the soups for dinner! And then comes dessert… especially pies, just like this cranberry apple galette.
Healthy treats.
Actually, pie is more of an 'any time of day' dish at my house. Which is ok with me, because they can be full of much-needed nutrients, too! I rather enjoy making my desserts as healthy as possible, so that they can be fully enjoyed – guilt free! This Rustic Cranberry Apple Galette is packed with vitamins, minerals, and antioxidants, and it's pretty easy to whip up, making it the perfect dessert… or breakfast.
Although galettes really fall more in the cake category – by culinary definition any flat, round pastry or cake-like creation – I've always considered them more of a pie. This recipe is basically a pie crust with pie filling, but without all the fancy flouting and crimping that come with pies. I made this crust out of amaranth and buckwheat flours, with a little flax, giving it a rustic feel. And I used sour cream instead of the usual butter or shortening. If you don't have any of these flours on hand, you can just use your favorite go-to pie crust for this recipe.
Nutritious fall flavors.
Though they're often overlooked due to their tart flavor, cranberries are a wonderful source of many vitamins, like vitamin C, vitamin E, vitamin A, ß-carotene, lutein, zea-xanthin, and folate and minerals like potassium, and manganese. They can help lower LDL (bad) cholesterol levels and increase HDL (good) cholesterol levels in the blood, and their phytonutrients and antioxidant capacity even beats out other superfoods like blueberries and strawberries!
They're full of anthocyanins, antioxidants that have the ability to destroy free-radicals in the body, and quercetin, a highly anti-inflammatory antioxidant that has been proven effective in reducing allergies, improving joint pain and reducing inflammation of the arterial walls. Cranberries also contain benzoic acid, which has powerful antiseptic properties and is the main compound in cranberries that reduces the risk of infection and can kill and inhibit bad bacteria from attaching to the bladder and urethra, therefore helping to treat UTIs and bladder infections.
We've all probably heard that they're full of fiber, but did you also know that apples are high in vitamin C, potassium, phosphorus, calcium, and various antioxidants? Like cranberries, they're also a good source of quercetin, and they contain catechin, which is a natural antioxidant, and chlorogenic acid, which has been shown to lower blood sugar. They're also a good source of B-complex vitamins such as riboflavin, thiamin, and vitamins B-6 and B-2, which help to protect the body from the effects of free radicals.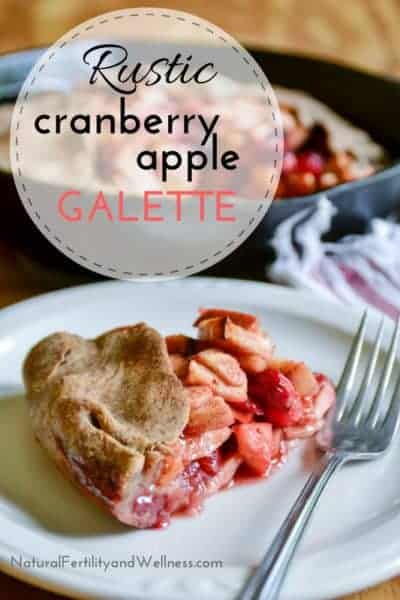 With all those amazing benefits, how could you resist making one of these delicious galettes for dessert?
Print Recipe
Rustic Cranberry Apple Galette
Ingredients
For the crust:
1/4

c.

amaranth flour

1/4

c.

buckwheat flour

1/4

c.

tapioca flour

2

T.

flax meal

1

t.

guar gum

1/4

t.

sea salt

1/4

c.

sour cream

1

T.

honey

1 1/2

t.

apple cider vinegar

2

T.

cold water

Fridge 1 hour.
For the filling:
5

apples

1

c.

cranberries

1/4

c.

honey

1

t.

cinnamon

1/2

t.

ginger
Instructions
For the crust:
Preheat the oven to 400 degrees and grease a 10 inch pie plate or skillet.

In large bowl, whisk together flours, flax meal, guar gum, and salt.

Cut in the sour cream until evenly crumbled throughout the flours. I just cut it in with a fork.

Stir in remaining crust ingredients until dough becomes a ball. It might take a minute, but it will happen!

Wrap crust in plastic wrap and place in the fridge to chill while you prepare the filling.

When filling is finished, place a piece of parchment paper on the table. Put dough in the middle and cover with plastic wrap.

Roll out crust between the parchment and plastic wrap until about 1/8th of an inch thick.

Keeping the crust between the parchment and plastic wrap, fold the crust in half, parchment side up.

Peel off one side of the parchment and flip this bare side of crust onto the pre-greased skillet or pie plate.

Peel off the other side of parchment and lay crust flat on the dish, with the sides over the edges (like a normal pie crust!).

Fill crust with prepared filling, then fold the visible crust edges over the filling.

Bake for 30 minutes, or until filling is bubbly.
For the filling:
Core and quarter the apples, then slice each quarter in half and thinly slice the halves. Place apple slices in the bowl from the crust.

Chop the cranberries (I find this is easiest if they're frozen) and add to the apples.

Sprinkle fruit with remaining ingredients and mix well.

Pour into middle of prepared crust.