Sourdough breads often seem like an unattainable feat, but these sourdough pancakes, using only a few simple ingredients, are as easy as a boxed mix and much, much tastier. As an added benefit, through the preparation of the sourdough, they are also easier for you body to digest and more nutritious!
I used my spelt sourdough starter and they didn't taste "wheaty" at all. They don't fluff up like traditional pancakes, but they are still very light and not dense at all.
Start by feeding and setting your starter out the night before (make sure you have at least 3 cups starter). You want it at room temp in the morning.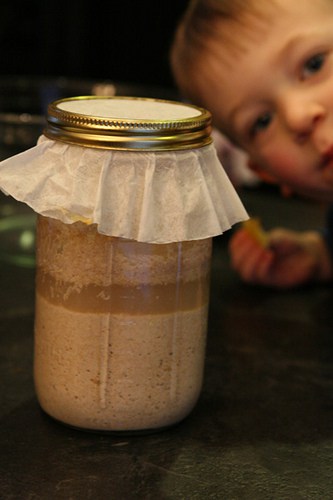 Preheat your pan to a medium heat.
Mix the baking soda and water together and set aside.
Mix the remaining ingredients together until well combined. Right before you're ready to start making them, add the water mixture and gently fold in. (and have fun watching the rising action!)
Once combined, pour about 1/4 cup on to the pan for each pancake.
Now, knowing when to flip is essential, you only have one shot when it comes to pancakes. See these bubbles?
You want to wait until they pop and stay open.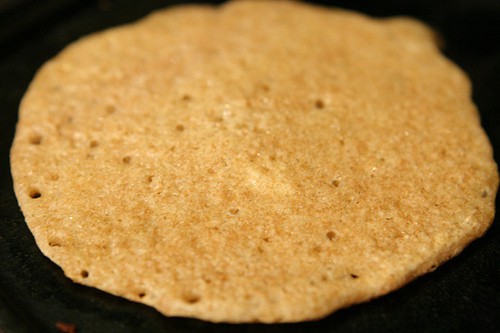 Flip and cook for just a bit more until it's golden brown.
Stack, top with plenty of real butter, a bit of syrup, and enjoy!!
You won't be disappointed with these!! And the best part is you'll benefit nutritionally because essentially, the starter has been "soaking" for quite some time and the enzyme inhibitors in the flour should be reduced.
*02/13 update – our family is currently eating gluten free and I've been able to make these using our gluten free starter.
Print Recipe
How to Make Sourdough Pancakes
Ingredients
2

cups

sourdough starter

1

Tbsp

maple syrup

or equivalent sweetener

1

beaten egg

3

Tbsp

coconut oil

or melted butter

1/2

tsp

sea salt

1

tsp

baking soda

1

Tbsp

water
Instructions
Preheat pan to a medium heat.

Mix the baking soda in the water and set aside.

Mix starter, egg, oil, and salt until well combined.

Add water mixture right before your ready to place on pan and stir gently.

Pour about 1/4 cup of batter for each pancake.

Cook until the bottom is a nice golden brown and the bubbles have popped on top.

Flip, cook a bit more, top with butter and syrup, and enjoy!