Summertime growing up meant running barefoot through the field behind our house, my long straw-colored hair trailing behind. My sisters and I would hide in the cornfields, getting lost among the tall stalks, pretending we were vagabonds. Our tall red barn served as the base camp and sheltered us in our play during summer rains.
During the hot humid days, we would traipse behind my mother, four, and then later five, girls carrying buckets to pick the garden's bounty. Some days we'd visit a nearby U-pick farm, other days we tend to our own garden. I'm sure there were many times I was less than helpful in the weeding and watering, but the picking I enjoyed. It meant strawberry shortcake on the back steps after we'd spent hours picking in the hot sun, washing, and de-stemming the berries, and washing up in big buckets outside. Picking produce also meant spending an entire day canning so much salsa that our eyes would burn just by walking into the kitchen.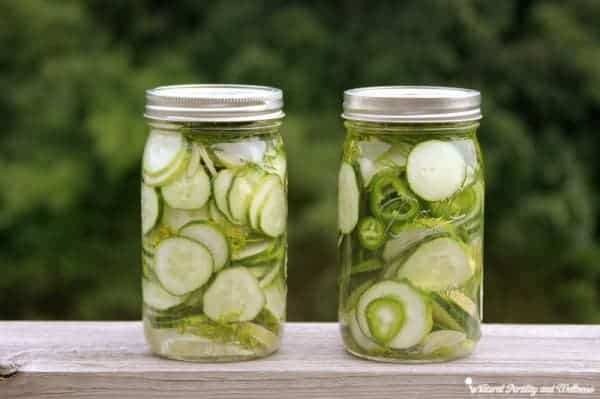 My favorite of all was the picking that led to dill pickles. My mom would take the freshly picked cucumbers right from our garden and make the most wonderful tasting pickles – better than anything found in stores. I, along with my sisters would dig into the big one-gallon jar she'd make them in, they never lasted long once they got into the fridge.
She has had this recipe for dill sun pickles for ages, and I have to say they're still my favorite almost three decades later.
Everyone we've ever given them to has liked them so much they ask for the recipe.
This recipe is easy, using just a few simple ingredients, and they are certainly quick to make! They do take a bit of time to sit as the flavors mesh together, but the wait is worth it. These pickles are perfect for you if you're looking for a substitute for regular store-bought pickles (which many times contain corn syrup or sugar), but not quite ready to dip your toes into fermentation. Or maybe you've tried the fermentation method and your family isn't quite ready for them. These dill sun pickles can be the start to winning them over from processed foods!
(If you're just getting started on your journey to whole foods, check out my Sugar Detox Challenge ebook, it's a great resource for lowering sugar consumption and includes 18 recipes.)
***UPDATED TO ADD – There are also many people that are worried about leaving these out, and I constantly get comments on this post about how this recipe does not meet current food safety standards (it most likely doesn't). That said, I still take the risk and make pickles this way, BUT you can just as easily make these in your refrigerator! The only difference is the skins aren't as "bleached" and thin, so you can leave them on or peel them before making if you prefer. Just add everything to the jar and let them sit in the fridge for a few days.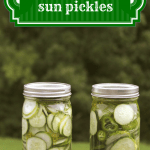 Print Recipe
Quick and easy dill sun pickles
A classic and easy to make pickle.
Ingredients
6 1/2

cups

water

3 1/4

cups

white vinegar

2/3

cup

canning salt

4-6

cloves

garlic

10

pickling cucumbers

8-10

heads

fresh dill

jalapeno or onion slices

optional
Instructions
Wash and sterilize (with boiling water) 3 or 4 quart sized mason jars and the same amount of two-part canning lids.

Either slice or spear each cucumber. I like my slices to be about 1/4 inch thick.

Slice the garlic into small pieces.

Prepare your brine and mix the water, vinegar, and salt together in a large mixing bowl or one gallon jar. Stir to dissolve salt.

Place a head of dill into a one quart jar along with some chopped garlic. Add cucumbers, and onion or jalapeno slices if using, until about half full.

Repeat layering by adding more dill, garlic, and more vegetables and pour water/vinegar mixture over cucumbers and place the two-part lid on the jar. Make sure to jot the date you made them on the lid so you can eat them in the order you made them.

Set out in the sun for 3-4 days, giving them a small shake each day, chill and enjoy!
Notes
Instead of leaving them to sit out, feel free to pop them in the fridge and let them sit for 3-4 days.
Now for some tips to make these dill sun pickles the best they can be:
If your cucumbers are picked the day you make them, just wash and slice. If you don't know when they were picked or were picked a couple of days ago, soak for about an hour in ice water to re-crisp them, otherwise they may go soggy too soon. (The fresher and crisper the cucumber, the better the pickle!)
You can easily make these pickles without onion or jalapenos, or you can vary the flavor based on your preferences. If you don't like to munch on the pickled onion, garlic, and jalapenos, they are fabulous chopped up and put into a hamburger!
Many people say to cut off both ends of the cucumber for best results. I naturally do when I make slices, but never have when I do spears and they still turn out fine. If you're a better safe than sorry kind of gal, just trim both ends off. No harm done.
If you don't have mason jars, you can use any glass jar you have that has a lid. The jar can also be just about any size, but I prefer the quart sized jars as the fit nicely in my refrigerator.
Do not open the lid to taste test during the 2-3 days period, not even once, and not even if you really, really, really want to try them! Only open and enjoy when you'll be eating the entire jar within the week. Opening the jar is an invitation for bacteria to enter and then leaving them un-refrigerated will be the breeding ground.
The sunshine isn't necessary for flavor, so if you don't have space outdoors, or if the sun has been hidden by clouds, no need to worry. Personally, I love the sun part of these pickles! It bleaches the dark green skins, leaving them almost white. The skins will also thin and soften a bit, taking the toughness out of them, so there is no need to peel before making!

These dill sun pickles will last for some time in cold storage, I often make them in the summer and we eat them until Christmas. Just don't open the jar until you're ready to eat them and then do so within a week or two.
If you are looking for a properly canned, shelf-stable pickle, try these from Simple Homemade – garlic dill pickles
And for traditionally fermented pickles: