What do you normally eat – real maple syrup or flavored pancake syrup? If you're like most Americans, table syrup is what you'll find in your cabinets. But what if I told you that real maple syrup is better for you?
Recently at the grocery store, I headed down the breakfast aisle to check out a few of the bottles for myself. To my surprise, only one brand had any amount of real maple syrup in it. It was from the store brand and even though it was on the label, it was so far down in the list of ingredients, there wasn't much in there. So what is pancake syrup made of? Basically corn syrup or high fructose corn syrup, plus a lot of other ingredients I couldn't actually pronounce!
Not only is pancake syrup full of preservatives and corn syrup, it's chock full of different flavors and dyes to achieve the right color and taste. It has no nutritional benefit, and while real maple syrup can't be considered a 'health food' due to the natural sugar content, it does have a couple of benefits over pancake syrup.
It has Manganese, and important mineral for energy production and antioxidant defenses. One ounce of syrup includes 22% of your daily value.
It also contains zinc, which also fights free radicals as well as helping decrease the progression of atherosclerosis.
Both manganese and zinc also help support your immune system.
Zinc helps support the health of a mans reproductive system.
And best of all, it's a real food, processed only by boiling/steaming.
Real maple syrup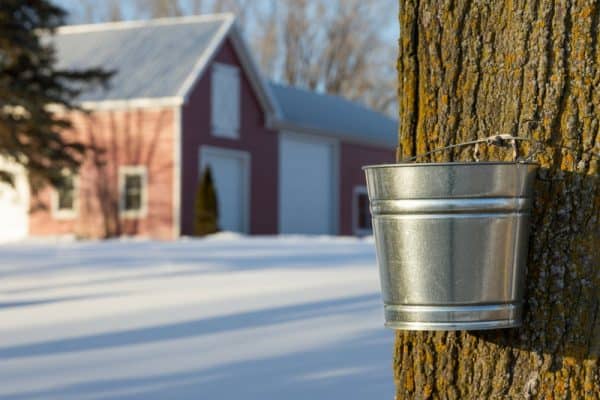 Maple syrup has been used for hundreds of years and is made from the sap of maple trees. After the sap is collected, it's boiled/steamed down until the sugar content is at the perfect percentage in the liquid. It takes about 40 gallons of sap to make one gallon of maple syrup. When you buy real maple syrup, it hasn't been chemically processed or altered, no food scientist has taken hours to find the perfect concoctions of flavorings, it's just real food.
Maple syrup also has many other uses in the kitchen. I use it to sweeten different baked goods and I also use it in a 1:1 ratio with butter to brush over roasted sweet potatoes. It's also good in oatmeal instead of using brown sugar, in those rare cups of coffee, and even in homemade ice cream. And while a diet high in any type of sugar (natural sugars included) isn't good for you, maple syrup is a naturally good choice!
It's not as expensive as you think
Making the switch from the junk food syrup can be difficult to swallow. I know. The price tag seems rather high. But I find that I don't use near as much when I use the real stuff. Not because it's sweeter, but because I'm simply more stingy with it and refuse to binge eat sweets I make with it. Plus if you do some looking around or stopping by farmers markets in the summer, you can normally find it at a decent price. I spend about $10.00-$12.00 per quart.
If you or your family members have a hard time with the taste difference, I would highly recommend switching over slowly – pour the maple syrup into the 'fake' syrup container, mixed with the processed stuff. My thinking is that it's better to work slowly to real foods than have the entire family revolt and stop trying the new foods you make.
So do yourself a favor, check the back of your syrup bottle at home. If you don't like what you see, it's time to buy some food that hasn't been processed beyond oblivion.
And if you deal with PCOS or insulin resistance, you can still include maple syrup in your diet, just simply check your blood glucose levels to see how your body deals with the sugar.