There tends to be a lot of misunderstanding/misinformation about protein out there right now. Most of the time recommendations are anywhere from 50 – 80 grams per day, some at each meal, and those are usually the guidelines I go with as well depending on lifestyle and current activity. (This need goes up of course during pregnancy, so make sure to check out the Brewer diet for guidelines) And protein is super important for overall health, being one of the three macro-nutrients, and it's involved in many of the body's processes. Plus it helps to stabilize blood sugar levels during meals, so a bit of protein with every meal or snack is really important!
I don't know about you, but sometimes I have a really hard time getting in the protein my body needs, especially in the winter. I'm not able to get as many good eggs as I can in the summer and we're limited to how much milk we receive from our farm share so I can't make yogurt and kefir near as often. Sometimes I need a bit of help to see outside the box a bit and figure out how to consume other good sources of protein.
Anyone else get stuck in a food rut like that?
If you do too, my blogger friend Tiffany from Don't Waste the Crumbs just released a new ebook called High Protein, No Powder that you might want to look into.
Some links are affiliate links meaning, at no additional cost to you, I may get a small commission if you make a purchase.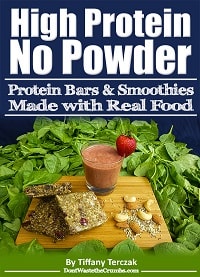 This ebook contains 150 pages that helps explain the problems with commercial protein powders and supplements while also teaching you how to make your own high protein snacks and smoothies using only real food.
As an added bonus, the recipes in the ebook can be made free of most common allergens (dairy, soy, corn, wheat).
Before reading this book, I didn't figure protein powders were "that" bad. Especially the ones found int he health food stores. But Tiffany makes a great case against them. And since Todd tends to lift weights most of the year, extra protein in some form needs to find a way into his diet. Sometimes he's gone the powder route just to be able to make sure he's getting enough.
"Of course fitness and health fans will benefit from this book, but it's also for moms who have a hard time getting their kids to eat protein. It's for dads who don't like eggs and bacon. It's for families looking to replace processed foods with real, wholesome foods. It's for vegans and vegetarians who are trying to eat more protein without eating animal products. It's for those who want to get the additional health benefits from raw and uncooked foods. It's for anyone who needs a little extra oomph to get them through to the next meal." – Tiffany
The recipes in this book are simple, as frugal as you can make them (cheaper than commercial protein supplements), and the few that I've been able to try so far are delicious. I've made my own snack bars before, but Tiffany has now given me a lot more choices and different ideas to add to them! And the list of smoothie recipes is great as well – a lot of flavors I've never thought to try.
I'm also pretty picky about the books I do promote as many of them aren't up to par. This ebook on the other hand was well thought out, includes tons of information (especially for those of you just getting started eating a whole foods diet), and the recipes are formatted in an easy to read way.
So make sure to check out High Protein, No Powders*. Cheers to tasty smoothies and quick, healthy snacks!