Probiotic Peaches 'N Cream Soda
There is just something about the summer season that just doesn't feel quite "summer" until our peaches are ready to eat! One of our favorite things to do is make peaches and cream soda – it' so refreshing on a hot July day.
I don't know if it is just how the weather just seems to feel more summer-like, or it is those ripe, juicy peaches, but every late July/early August we pick up a couple bushels of them from a local farmer near us and we really enjoy them.
Peaches and cream are a staple around our house. It is so simple, but a swirl of fresh, sweet cream with summer sweet peaches is so amazing.
Last year I decided I wanted to see if I could capture that flavor in a fermented soda. We love taking the best summer flavors and making a special soda treat that we can enjoy on hot summer weekends.
This simple fermentation method infuses probiotic rich whey with the sweet fruit and real sugar for the probiotic bugs to feed on to make a bubbly, crisp soda that is so delicious. It isn't overly sweet despite the amount of sugar as the probiotic bugs "eat" a good majority of it.
The peaches and cream soda turned out so well last year that it was one of the first things I had to make with this year's peaches!
Probiotic peaches and cream soda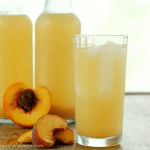 Print Recipe
Peaches 'N Cream Soda
Ingredients
5

cups

peaches

sliced

1

cup

organic pure cane sugar

7

cups

of water

2

TB

vanilla extract

1/2

cup

whey

Just scoop a container of plain whole yogurt into a dishtowel, tie it up onto a cupboard door and let it drip into a jar - the liquid dripped off is probiotic rich whey! The leftover yogurt in the towel is like Greek yogurt or cream cheese - yum! If you are dairy free you can use water kefir grains or a ginger bug.
Instructions
Put the peaches, sugar, and water in a large pot and bring to a boil. Reduce to a simmer about 15-20 minutes.

Squish the peaches in the pot (I use a potato masher), and pour the peach sugar water through a fine mesh strainer into a large bowl.

Add the vanilla extract and whey to the peach sugar water in the bowl and stir. Pour the soda mixture into flip top bottles and set in a warm area of your home.

After a couple days you can open a bottle to check for taste and let the fermented gasses out so it doesn't build up too much. Fermentation can take anywhere from 2 days to a week. Move the bottles to the fridge once they are ready.
*For more amazing drink recipes, follow our whole foods board on Pinterest!