In the whole "waste not, want not" way of thinking, I decided to make some peach pit jelly after a friend had mentioned it. I figured it would be a great way to use up what would normally be thrown away!!
Now, we don't eat jams or jellies very often because of the sugar content. I think last year we went through less than 1/2 dozen pints of jam, eating it maybe once a week or so. And this year hopefully we'll eat even less as I try to cut sugar out of our diets more and more.
But anyways….I followed this recipe but changed it slightly because I used Pomona's natural pectin and calcium water.
First I dumped all the skins, pits, and peach-y leftovers into a pot and poured in enough water to cover.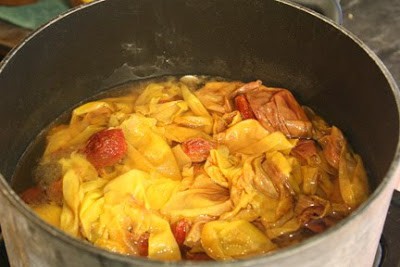 Appetizing no?
Then I left it out on the stove overnight looking all nasty and yuck. Seriously, it did not look appetizing at all!
After it sat out I then strained it through some cheesecloth and followed the directions in the Pomona box. I did not take pictures during this as I obviously have a hard time following directions. I put the pectin in at the wrong time, put the sugar in at the wrong time….and made a wretched mess as I let a sugar-y, peach-y pot overflow all over my stove.

After it finally got to about 220 degrees, I poured it into my jars and processed in a water bath canner for 10 minutes.
And it's delightfully delicious!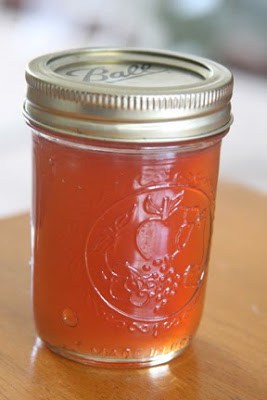 FYI – I used 3 cups of sugar to 4 and 1/2 cups of peach 'juice'.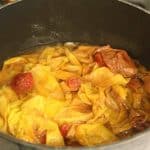 Print Recipe
Peach Pit Jelly
Ingredients
4

qts Peach peels and pits

Pomona's natural pectin

3

cups

organic sugar
Instructions
Save peels and pits of peaches when canning. Barely cover them with water in a large kettle. Bring to a boil and simmer for 30 minutes. Let stand overnight.

Strain juice through cheesecloth.

Measure 3 cups juice into a large pan.

Add 1 package pectin.

Bring to vigorous boil.

Add 3 cups sugar and boil rapidly until it reaches "sheeting off" jelly test, 220 degrees.

Skim off foam.

Pour into hot jelly jars and seal in a water bath canner. (follow times given for jelly)
Notes
Because you are using the peels, please make sure that you have purchased organic peaches.